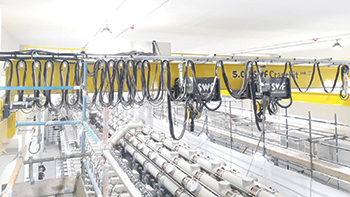 An SWF 5-tonne overhead crane installed at Alba by KAIE.
Within months of launching the world-renowned SWF Krantechnik brand into the Bahrain market, Kanoo Automotive & Industrial Equipment (KAIE) secured its first major order for these cranes with the highly prestigious airport expansion project.
Part of the diversified Ebrahim K Kanoo group, Bahrain-based KAIE is the sole distributor and service provider for SWF Krantechnik, a German brand ranked among the world's leading companies for industrial crane components and hoists.
KAIE launched SWF in the local market in July 2016 and within the same year supplied its cranes to the Bahrain International Airport Modernisation Programme, Ravinder Sharma, application engineer (industrial) at KAIE, tells ABDULAZIZ KHATTAK of Gulf Construction.
The maximum load-bearing capacity of the cranes supplied to the airport is 7.5 tonnes.
KAIE offers four categories of SWF cranes: the Nova Blackline (a key product used in EWA projects); the Nova Silverline of a higher capacity range; SWF Explosion Proof – a segment in which it dominates – for use in the oil and gas, petrochemical and chemical industries; and chain hoists cranes.
Backed by a rigorous after-sales programme, KAIE has secured customers in many government and private organisations, including the Electricity and Water Authority (EWA), Bahrain Defence Force (BDF), Ministry of Interior, and Siemens, to name a few.
The company was recently awarded a maintenance contract by EWA for the Sitra Power Station. The two-year deal includes maintenance of 36 overhead cranes of various brands, highlighting the engineering capabilities of KAIE.
Sharma says two technicians have been permanently deployed at the site.
Another key project KAIE has carried out was with Siemens for Aluminium Bahrain's (Alba) Line 6 expansion power distribution system. It supplied an SWF 5-tonne overhead crane (main hoist plus auxiliary hoist) undertaking its installation, testing and commissioning
So far, KAIE has installed 20 SWF cranes – with capacities from one to 12 tonnes – out of a total order to date for 26 SWF cranes. "But this number is expected to increase as we are seeing an order for 15-16 more cranes in another two months," says Sharma.
He says KAIE is fully capable of installing cranes of much higher capacities than what it has currently installed as per customer requirements. For instance, he says, the Silverline range can go to up to 500 tonnes and even higher.
KAIE offers comprehensive support with regard to SWF cranes including consultation, planning, and designing.
Sharma says the company's team goes to the site and conducts a thorough study on the application requirements before recommending what's best for the customer. It can also provide a solution tailored to the customer's requirement, if needed.
Sharma emphasises that all SWF parts are manufactured in Europe, thus ensuring high quality. And KAIE has a fully stocked warehouse to cater to any customer requirements.
SWF cranes are offered with all the latest technological features, key amongst which are their safety options, for example, electronic limit switches to protect against overload tampering.
Sharma says: "In most cranes, these switches are manual, which increases the chances of tampering. However, the electronic switch in SWF cranes offers security against such tampering.
"There is a whole lot to go through before the load-bearing parameter can be altered on any SWF crane. That makes SWF cranes tamper-free and safer to operate."
Similarly, a self-calibration device on SWF cranes gives the operator peace of mind.
"The operator doesn't need to worry about the machine's load-bearing capacity especially after third-party load-testing, where this parameter is altered so the machine can be tested for higher than design load," says Sharma.
With the self-calibration option, a mere push of a button returns the machine to its pre-load testing parameters. This saves time and is more accurate than a mechanical method.
Furthermore, standard in the Blackline range is the wireless radio control system – yet another safety advantage. This feature does away with annoying cables that can pose a risk to the operator especially in high risk-prone industries.
For the Alba project, the SWF crane installed has a 116-m radio control range, says Sharma, adding that usually a 30 to 40 m range is adequate as a safety measure.
The SWF cranes have a trolley speed of 20/5 m/minute for cross travel – which means a maximum speed of 20 m and minimum of 5 m/minute. The long travel speed is 32/8 m/minute; and the lifting speed is 5/0.8 m/minute. The hoist features galvanised steel wire rope as industry standard.
KAIE offers 24/7 support to its clients with dedicated support also available online from the manufacturer in Germany. Its technicians reach the customer's site within 24 hours to attend to any problems with the cranes.
Furthermore, the company is fully capable of undertaking maintenance for any brand and not just its own, giving it an advantage over its competitors. Its technicians go through regular in-house product trainings, says Sharma.