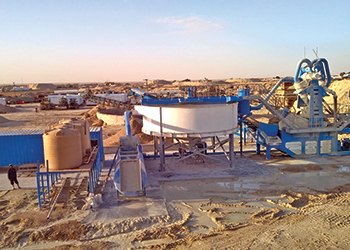 CDE Global marks major success in Kuwait
April 2016
Materials washing specialist CDE Global recently marked the completion of installation of its latest sand washing plant in the Kuwait market.
The plant was delivered to Associated Construction Company (Asco) of Kuwait, which decided to expand its installation by adding a second, more powerful sand washing installation from CDE Global, impressed with the performance of the CDE M2500 sand washing plant it purchased in 2013.
With prospects for sand washing in Kuwait looking bright and demand for quality washed sand growing apace, Asco had to adapt to increased demand for quality washed sand from customers. Following discussions with its dedicated CDE Global project manager, Asco decided to complement its site operations with a CDE M4500 sand washing installation, which is now running side by side with the M2500 unit. This has dramatically increased capacity and injected an extra 240 tonnes-per-hour dimension to Asco's sand washing operations.
ASCO plants manager Khaled Nasr commented: "When we purchased the M2500, it was the most advanced sand washing system available in Kuwait and it has served our needs very well. But two years down the line and having significantly increased our production thanks to the efficiency of our CDE equipment, we found ourselves needing an additional plant to answer the growing demand for our quality products.
"It made sense to purchase the CDE M4500, a powerful upgrade of the M2500. We decided to call on CDE Global again as our initial collaboration on the M2500 was very positive.
"We already knew that CDE products were built to last, with high operational efficiencies and would deliver the quality and tonnage per hour we required. It was an easy decision. The addition of the M4500 to our processing capability will ensure that the sand products we offer are of the highest quality available in Kuwait.
"The M4500 now runs parallel to its sister plant the M2500. Coupled with a CDE AquaCycle thickener which reduces the environmental impact by recycling 90 per cent of used water, our M Series plants are a winner all round."
CDE last month led a ministerial visit to the Asco site. During the visit, the UK's Enterprise, Trade and Investment Minister Jonathan Bell commented: "This is a significant order to supply CDE's M4500 modular sand washing plant to Associated Construction Company in Kuwait. CDE Global is an impressive ambassador for Northern Ireland's industry excellence and is now the leading provider of wet-processing equipment."
Ruchin Garg, CDE Global business development manager for the Middle East, who led the visit around the site, said: "The CDE M-Series is a very flexible offering of feeding, screening, sand washing and stockpiling equipment to process a range of materials including sand and gravel, crushed rock, scalpings and mineral ores like iron ore.
"In the Middle East's growing construction sector, our integrated mobile washing products have become a solution of choice for customers wishing to gain a competitive edge through enhanced product quality and operational efficiencies. There is also significant scope to develop our operations in the construction and demolition waste recycling sector in this market.
"Asco's renewed trust in our products and customer service is yet another testament to the unmatched reputation for quality and professionalism CDE Global enjoys all over the world."
Garg said the CDE M4500 has revolutionised the way materials washing operators conduct their business today.
"It was the first machine in the industry to combine feeding, screening, washing and stockpiling onto one compact chassis, and it manages to achieve all this with an impressive capacity of 450 tonnes per hour. We are delighted that our customer has renewed their trust in our services and products.
"Our capacity to always innovate also accounts for our success in the Middle East, in which business communities have a strong appreciation for fresh ideas. CDE Global has recently been shortlisted as a finalist in the prestigious bauma 2016 Innovation Award in Munich (Germany) in April.
"I believe our reputation for high quality products and services now precedes us and I am looking forward to introducing CDE Global to more clients in the Middle East," Garg concluded.
More Stories