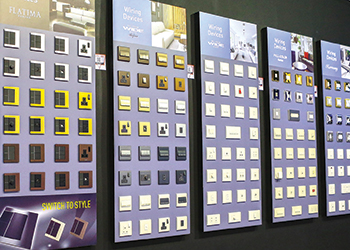 Panasonic poised for further growth
April 2016
Technology leader Panasonic is targeting a 20 per cent growth for its global Eco Solutions business over the next two years driven by the huge infrastructure projects coming up in the region to host events such as the Expo 2020 in Dubai and the Fifa 2022 World Cup in Qatar.
A large part of this growth is expected from the Middle East and Africa (MEA), according to Tatsuya Kumazawa, director and head of Eco Solutions Division at its Jebel Ali-based operation Panasonic Marketing Middle East and Africa (PMMAF).
Panasonic has also set its sights on being the global Number One in the electrical switch and socket business by 2018, when the company will mark the 100th anniversary of its foundation.
"We are already the market leader in the electrical switch and socket business in many Asian countries The company will be looking at further penetrating the market to create new businesses by developing competitive products for each market," he said.
Kumazawa revealed the division's goals to Gulf Construction at the Middle East Electricity exhibition held in Dubai, UAE, last month (March 1 to 3), where the company showcased a wide range of electrical solutions, from energy creation (photovoltaic solar panels HIT) to wiring devices, lighting and indoor air quality solutions, under the 'Homes and Living' category.
"Many of our products displayed at the show have recently entered this market, including a new range of air purifiers which was launched a month ago," he said.
Also on display was a full line of water pumps that meet the region's water management strategies to improve distribution systems.
Panasonic also showcased electrical construction products from its group companies Viko of Turkey – which it acquired in 2014 – and Anchor India, which offers a wide line-up of switches and sockets.
"We had a lot of interest from visitors, specifically from the GCC and Iran, and also new markets in Africa," he said.
The Eco Solutions Division offers photovoltaics, lighting products, electrical construction materials, air-conditioning and purification products and home building products and materials.
"All our products in the Eco Solutions category are top class in terms of innovation, high efficiency and durability. We offer a broad spectrum of wiring devices, lighting solutions, solar panels, water pumps and indoor air quality solutions," he added.
An area of importance to the company is solar panels. "Many countries in the region, including the UAE, Egypt, Morocco, Jordan and Saudi Arabia have made forays into large-scale solar power programmes," he said.
The company's key markets include all the GCC countries along with Egypt, Iraq, eastern Africa and South Africa. "We will be strengthening our presence further over the coming years," said Kumazawa, adding that future plans include establishing local production sites.
"Our strategy will mainly focus on leveraging our solutions to expand the business further. A major part of this includes localisation in individual markets – in terms of production and consumption. This will help us develop comprehensive products for each market, further enabling us to create a proactive sales base," he said.
The company recently set up brand showrooms in Kuwait and the UAE and plans to add more this year.
More Stories