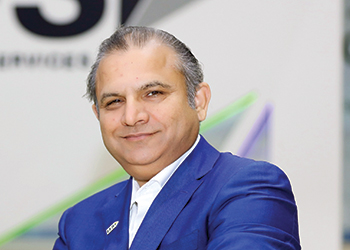 News in brief
August 2016
EFS to manage Dubai residential development
EFS Facilities Services (EFS), a regional leader in delivering integrated facilities management services across the Middle East, Africa, South Asia and Turkey, has won a contract that will see it manage and deliver a range of property services to a newly constructed residential development in Dubai, UAE.
The contract with Dubai Real Estate Corporation, valued at approximately Dh15 million ($4 million), is for the provision of facilities management services at Karama Residential Development, which comprises 572 apartments, 153 retail outlets and 802 parking spaces, with a total built-up area of 1.4 million sq ft.
The contract is for an initial period of four years and will see EFS executing a managed asset replacement (lifecycle) plan, combined with maintenance and operations of the common property areas of the development, in compliance with the UAE's regulatory standards and framework.
The agreement was signed by Hesham Al Qassim, vice chairman of Dubai Real Estate Corporation, and Tariq Chauhan, Group CEO of EFS, in the presence of other officials.
Commenting on the contract win, Chauhan, Group CEO of EFS, says: "The new contract further strengthens EFS' credentials as the preferred integrated FM provider for large-scale mixed-use developments in prime areas. Underscored by our local expertise and global knowledge, we are confident that we will play a critical role in ensuring that the property is managed efficiently with minimal running costs, whilst maximising the life of the property."
According to a recent report released by consultancy firm, Credo, FM contracts across the GCC will hit $66 billion by 2020, up from $37 billion in 2015.
Turkey's Anel Mepa wins Doha metro contract
Turkish-based Anel Mepa has been awarded a $66.5-million building automation and management and heating, ventilation and air-conditioning (HVAC) contract for the Red Line of the Doha Metro project in Qatar. The company received the award from main contractor FCC-Yuksel-Archirodon-Petroserv JV.
The scope of work includes heating and cooling, ventilation and air-conditioning, plumbing, fire protection and alarm, building automation and management, testing and commissioning and electrical panel systems and lighting automation works of the Red Line South Elevated and At Grade Project.
The work, which is part of Qatar Integrated Railway Project, is due to be completed in the last quarter of 2017.
Drake & Scull inks ENI Iraq deal
Drake and Scull International (DSI) has been awarded a Dh226-million ($61.5 million) engineering, procurement and construction (EPC) contract for the construction of a water injection network installation project at the Zubair oilfield in Basra, Iraq.
The contract was awarded by ENI Iraq BV (EIBV), a subsidiary of the Italian oil and gas multinational firm ENI. EIBV is the lead contractor of the Zubair Project consortium, which currently comprises EIBV, Occidental of Iraq and Kogas Iraq, which is undertaking the redevelopment of the Zubair oilfield.
Under the terms of the agreement, Drake and Scull Oil and Gas (DSOG) will oversee the EPC of a gas supply pipeline system to a power plant in addition to water injection systems consisting of flow lines, trunk lines, manifolds stations and wellheads hook-up work to enhance oil recovery. Mobilisation activity on the project has commenced with a scheduled completion of early 2018.
Commenting on the project award, Wael Allan, chief operating officer of DSI, says: "Drake and Scull Oil and Gas continues to achieve substantial progress and has gained a noticeable foothold in the oil and gas infrastructure construction sector in the Mena (Middle East and North Africa) region in a short period. The award raises DSI's total project wins to Dh570 million ($155 million) in very challenging circumstances. We are confident our high margin businesses including oil and gas, rail and infrastructure and engineering will contribute to our sustainable growth, in line with our strategy of focusing on profitability and cash generation."
Al Khayarin Group to construct Qatar office building
Al Khayarin Group Trading and Contracting has won a contract for the development of an office building for Qatar-based Al Markab Real Estate with a total built-up area of 11,430 sq m at Energy City in Lusail, said a report.
The contract is for demolition, construction, completion and maintenance of the building to be located in Al Sadd area, reported The Peninsula.
The building, which will be constructed as per the smart city regulations and will feature all the latest modern facilities, comprises two basement levels primarily featuring parking facilities, services area besides a ground floor, mezzanine floor and three upper floors, said the report.
More Stories