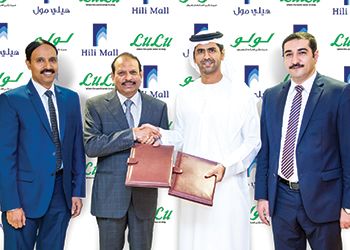 News in brief
September 2016
Lulu hypermarket to open at Hili Mall
Hili Mall has signed a contract with leading retail conglomerate Lulu International Group to open a new 70,000-sq-ft hypermarket this month in Al Ain city in the UAE.
The agreement is in tune with Hili Mall's focus to attract leading global brands for meeting the daily needs of families in Al Ain. It also is in line with Lulu's strategic planning to boost its presence in the city by exploring new market opportunities.
The contract was signed by Saeed Sultan Al Dhaheri, CEO of Hili Mall, and Yusuffali, chairman of Lulu Group, in the presence of other officials.
Al Dhaheri comments: "We are delighted to seal this partnership and are confident that the new hypermarket alongside internationally-acclaimed retail groups such as Al Shaya, Landmark, Kamal Osman Jamjoom, and other renowned brands will be a focal destination which will be attracting more visitors to the mall."
This also paves the way for more collaborations with other leading brands under one roof, he says.
Commenting on the deal, Yusuffali says: "Our presence in Hili Mall demonstrates our commitment to having a presence in all major retail landmarks across the UAE. Due to its distinguished location within Al Ain, Hili Mall offers an additional advantage to Lulu hypermarket."
DIP offers 70 new warehouses
Dubai Industrial Park (DIP), the dedicated industrial hub within Dubai Wholesale City in Dubai, UAE, is offering 70 state-of-the-art pre-built storage and light industrial unit warehouses to meet the needs of the region's manufacturing and logistics sector.
The high-quality ready-to-use warehouses and storage spaces, designed for cold, chemical and general storage as well as for light industrial use, are available for short-term and long-term lease and range in size from 5,000 sq ft to 10,000 sq ft.
Spanning an area of over 7 million sq ft in Dubai Industrial Park, the project includes warehouses with provision for offices, retail showrooms equipped with attached storage to allow retailers increased storage and open yards with asphalt floorings.
All facilities at Dubai Industrial Park are provided with surveillance and security services round-the-clock.
Additionally, DIP has also rolled-out special offers and value-added services specifically designed to facilitate the growth of existing and potential small and medium-sized enterprise (SME) business partners and support them in realising their strategic objectives.
Damac launches plots in golf community
Damac Properties has launched Akoya Imagine plots within an international golf community in Dubai, UAE, providing investors the opportunity to purchase land plots in a thriving development that comprises colourful villas with low annual community fees and an extended time to build for up to 10 years.
The prices of plots start at Dh600,000 ($163,356) and have gone on sale.
Ziad El Chaar, managing director, Damac Properties, says: "Investments in golf communities typically enjoy higher returns as supply remains limited and are considered more financially stable than investments in financial instruments. For those investors considering suitable long-term opportunities, this exciting development represents the perfect occasion to plan for their children's future, their own retirement or to grow and enhance their financial portfolios. Furthermore, Dubai is also known for its prime release estate and high yields, offering a more secure and stable investment environment than most other investment classes."
In addition, Damac Properties has also launched its 33-storey Tower 108, a collection of serviced hotel apartments located in Jumeirah Village Circle. To be operated by Damac Maison de Ville, the hotel apartment units present a lucrative investment opportunity with potential for high returns.
More Stories