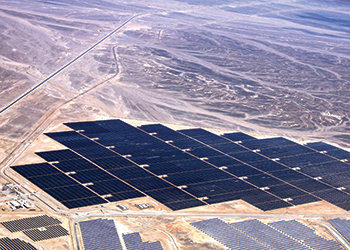 First Solar gives Jordan largest solar plant
December 2016
Investments in solar energy are no longer being made just as a means of complying with green legislation but as a legitimate way to address increasing energy needs, says First Solar.
The leading global provider of comprehensive photovoltaic (PV) solar systems has a total installed capacity in the Middle East of more than 70 MWAC following the recent completion of the Shams Ma'an project in Jordan.
A further 200 MWAC will be added to this when Phase Two of the Mohammed bin Rashid Al Maktoum Solar Park in Dubai, UAE – on which it is currently engaged – is completed in 2017.
First Solar's recently commissioned 52.5-megawatt (MWAC) Shams Ma'an project will help reduce Jordan's carbon footprint by displacing approximately 90,000 tons of carbon dioxide (CO2) per year, equivalent to removing about 20,000 cars from its roads.
Shams Ma'an is now claimed to be the largest operating solar power plant in the region spread out over 190 hectares – the size of over 200 football pitches. The plant, which accounts for approximately one per cent of Jordan's total energy generation capacity, will be generating enough clean electricity to power 35,000 Jordanian homes.
The plant is owned by a consortium of investors consisting of Diamond Generating Europe, Nebras Power and the Kawar Group. First Solar significantly contributed to the development of the project before divesting its stake and being appointed the engineering, procurement and construction (EPC) contractor. Shams Ma'an has a 20-year power purchase agreement (PPA) with the National Electric Power Company (Nepco), Jordan's power generation and distribution authority.
Commenting on the project, Ahmed Nada, vice-president and region executive for First Solar in the Middle East, says: "Shams Ma'an has been engineered for performance and is further evidence of the fact that First Solar's high-performance modules can deliver more energy than conventional photovoltaic technologies in Jordan and across the region."
The plant produces electricity using over 600,000 high-performance First Solar Series Four thin film modules, which deliver up to five per cent more specific energy in Ma'an than conventional crystalline silicon panels. The modules are mounted on single-axis trackers that allow the facility to generate up to 20 per cent more energy, says the company.
According to Dr Raed Bkayrat, First Solar's vice president of Business Development for the Middle East, the facility was constructed by a workforce that was almost entirely Jordanian – none with any previous experience in the solar industry – and included 600 workers on site at the peak of its construction.
He says the project has facilitated the transfer of several gigawatts of First Solar's knowledge and experience to Jordan. The company spent over 40,000 man hours on training alone, creating a new skills resource for the country, he adds.
Shams Ma'an is significant for Jordan as it places the country on track to achieve its energy generation objectives. "With very few reserves of natural gas or crude oil, Jordan has historically relied on imports to supply its energy demands. At the moment, an estimated 97 per cent of its energy is imported, taking up a large chunk of the budget. Additionally, regional instability has affected energy supply from nations like Egypt and Iraq.
"Therefore, projects like Shams Ma'an will help reduce the kingdom's dependence on foreign hydrocarbons and at the same time give it a sustainable locally sourced alternative," says Bkayrat.
Meanwhile, on Phase Two of the Mohammed bin Rashid Al Maktoum Solar Park in Dubai, First Solar has been selected as part of a consortium led by ACWA Power and TSK to supply modules to power the park.
"By the end of this year, 2.3 million of the high-performance First Solar Series Four thin film PV modules that are needed to power the new facility would have been delivered," says Bkayrat.
There are 152,880 First Solar modules powering the 13 MWAC Phase One of the Mohammed bin Rashid Al Maktoum
Solar Park.
Elsewhere in the region, First Solar jointly funded and constructed a pilot solar-assisted water pumping project at the Al Watania Organic Farm in the Al Jouf region, Saudi Arabia, in conjunction with The Al Watania Agriculture Company. The 684 KWAC plant powers groundwater extraction and distribution operations and is powered by First Solar's advanced thin film PV.
Bkayrat is very confident about the future of the solar power industry, particularly in the Middle East. "Solar energy's unprecedented reliability and sound economics are driving countries like the UAE to lead the way with investments in clean energy."
He adds: "In the UAE, we see that Abu Dhabi and Dubai are propelling the energy transition with visionary policies designed to encourage renewables in general and solar in particular. We're also seeing a new impetus in Saudi Arabia, which announced a revised target of 9.5 GWs as part of its Vision 2030."
Considering these initiatives are being taken by countries rich in fossil fuels, he believes this only reinforces the fact that sunlight has truly come of age as a reliable and affordable energy source, capable of standing shoulder-to-shoulder with conventional power generators.
More Stories