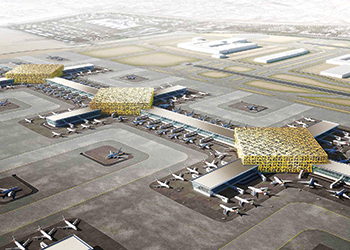 News in brief
January 2017
Lane wins Maktoum airport deal
Salini Impregilo Group, a leading global player in the construction of major complex infrastructures, said its US subsidiary Lane Construction Corporation has won a $75-million contract for the Al Maktoum International Airport expansion project in Dubai, UAE.
Lane Construction Corporation will be working alongside the National Contracting Transportation Corporation of Sharjah, UAE, on this project.
As per the deal, Lane will be responsible for 60 per cent of the $125-million project which entails new terminal facilities, concourses, runways, roads and tunnels.
In preparation for the expansion, Lane will work on temporary fences and gates, utilities and site offices, as well as site security, said the Salini Impregilo Group.
The work will start this month (January) and is due to be finished in 31 months. Once completed, the expanded airport is expected to accommodate more than 220 million passengers a year, making it the world's biggest in terms of size and passenger capacity by 2050.
Al Habtoor sells stake in HLG
Dubai-based Al Habtoor Holding said it has sold all of its shares in construction firm Habtoor Leighton (HLG) Contracting (formerly Habtoor Leighton).
HLG was formed in 2007 following the merger of UAE-based contractor Al Habtoor Engineering with Gulf Leighton – a unit of Australia's Cimic Group.
Al Habtoor Group chairman Khalaf Ahmad Al Habtoor, said: "I took a strategic decision to depart from HLG, and my main focus shall be on Al Habtoor Group's core businesses such as hospitality, real estate, automotive, education, and publishing."
The divestment move comes several months after Al Habtoor said he planned to offload the shares. "I am delighted to have founded such an exceptional construction company in 1970 which to date has built many landmarks in the UAE," he added.
Al Nuaimi to start enabling works on Mina Al Arab resort
RAK Properties, the largest property developer in Ras Al Khaimah, UAE, has awarded a Dh30-million ($8.16 million) enabling works contract to Al Nuaimi Group for a 306-room resort coming up in the Mina Al Arab development.
The property will be operated by Minor Hotels under its Anantara brand when it opens in late 2018.
The contract includes piling and earthworks for the Anantara Mina Al Arab Ras Al Khaimah Resort & Spa, which will feature the emirate's first Maldives-inspired overwater villas, four restaurants and other leisure facilities.
The property will be situated within a secluded and picturesque area with its own 9,000-sq-m private beach overlooking a stunning eco-reserve lined with mangroves.
Among the featured amenities of the resort are various health and sports facilities. Additionally, the property will include a ballroom with further events and meeting space, and a dedicated kids' and teens' club.
Al Hajiry Trading wins Oman residences deal
Al Mazaya Holding Company said it has awarded a RO5.7-million ($14.7 million) contract to Al Hajiry Trading for the construction of its Mazaya Residence, a residential and commercial development in Al Seeb province in the heart of capital Muscat.
Spanning an area of 6,614 sq m, the project boasts 120 residential units, including one- to three-bedroom apartments and 28 shops with high-end amenities and landscaped areas.
Al Hajiry Trading, which has a 22-month contract to complete the project, is a pioneering business with a 2,500-strong workforce, boasting more than 21 years of experience in building and construction.
More Stories