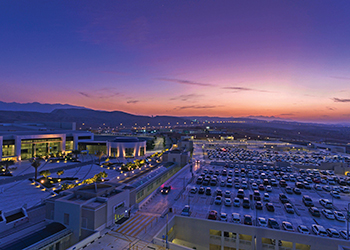 Prudent progress
February 2017
Falling oil prices aren't holding back the sultanate, which is pushing ahead with infrastructure projects in an ambitious move to diversify its economy.
Oman's continued focus on economic diversification and infrastructural development is driving activity in the construction sector, which can look forward to a surge in business levels this year.
Transport infrastructure, followed by power and water and tourism projects, are in the limelight as the sultanate spearheads growth despite the prevailing low oil prices.
Global research firm BMI Research is highly optimistic about construction activity in the sultanate and anticipates the sector to expand by an annuallised average of 10.6 per cent. It says that growth in the construction sector will accelerate in 2017 and beyond on the back of continued deficit spending, a favourable regulatory environment and solicitation of private capital. Growth patterns in the coming years will reflect the government's commitment to diversifying the country's economic base, with non-residential building driving growth in 2017 and transport emerging as a growth engine over the longer term.
The private sector is expected to play an increasingly larger role in the sultanate's development plans. In fact at the recent Meed's Outlook Oman Forum, Industry and Commerce Minister Ali bin Masoud Al Sunaidy stressed a private sector role is the backbone of Oman's ninth five-year development plan – launched early last year – and that the government is focused on establishing public-private-partnerships (PPPs) to solve the funding challenge and attract investment to deliver key projects.
According BMI Research, Oman's government will invest roughly $20 billion in the modernisation and build out of the country's transport infrastructure over the next 15 years, anticipating that transport is set to assume a greater long-term role in driving broader construction sector growth. Among the key projects that are expected to be the focus of the government's investment initiative is the planned $15.6-billion national railway network.
Also, the country is well placed geographically (outside the Straits of Hormuz) to develop into a regional trading and logistics hub and to capitalise on this, the sultanate is developing four special economic zones at Duqm, Salalah, Sohar, and Mazunah.
The power and water sector is gaining traction through independent power and water projects (IWPPs), which have attracted significant private sector interest. Next up for grabs are the $272-million Salalah and Sharqiyah independent water projects, which have already drawn bids from leading international consortiums.
Airport & Ports
Work on the $1.8-billion new Muscat International Airport is nearing completion and the project is now scheduled for opening this year. The new terminal will be able to handle 12 million passengers per year.
Construction work has also commenced on the third phase of Duqm Airport project. Set for completion in early 2018, the project aims to accommodate the expected growth in traffic over the coming years at Duqm's economic zone, where several public-private partnership projects are currently under way.
Meanwhile, the Special Economic Zone Authority at Duqm (Sezad) has signed contracts worth RO169 million ($437 million) for the construction of the second package of the Duqm Port and a fishing port. The RO107.3-million ($278 million) contract for Duqm Port is for infrastructure works at the commercial terminal and operational zone areas.
A bulk liquid terminal is also planned to be built at the port of Duqm. The $1-billion project is a key component of the infrastructure being developed to support the growth of a liquids hub in the special economic zone. Royal Boskalis Westminster (Boskalis) has just been awarded a €480-million ($533 million) contract for the project (see Contractors).
Power & Water
In May last year, Oman Power and Water Procurement Company (OPWP) awarded the single largest tendered independent power project (IPP) for the development of the 3,219 MW Ibri and Sohar Three power generation projects.
The project includes two natural gas-fired combined cycle power plants of 1,509 MW and 1,710 MW each, located in northern Oman. Both plants will be owned and operated under a 15-year power purchase agreement with OPWP at a cost of over RO885 million ($2.3 billion). Once commercially operational in early 2019, the plants will supply approximately 30 per cent of the electricity demand in Oman.
OPWP also awarded mega deals in March for two independent water projects (IWPs) worth a total of $1.5 billion at Sohar and Barka.
The company is now spearheading the development of four other IWPs in Sharqiyah, Salalah, Duqm and Khasab while having plans in hand for two plants in Muscat and Northern Batinah.
Meanwhile, OPWP is also seeking bids from consultants to conduct a technical and economic study for the country's first large-scale solar project. The winning consultancy will help in the tendering process for the 200 MW IPP project.
Among other developments in this sector, Petroleum Development Oman (PDO) has awarded a detailed design contract for its Saih Rawl combined-cycle power station project, as part of plans to convert the existing open-cycle power plant at Saih Rawl to closed-cycle by installing an HRSG (heat recovery steam generator), an STG (steam turbine generator) and other associated auxiliaries and utilities.
Roads & Railway
The focus of the sultanate's $11-billion rail plan is now on its mineral line, in line with the country's economic diversification plans. Oman Rail has achieved several key project milestones on its mineral line with the completion of its concept design, corridor identification, and technical and operational parameters besides acquisition of land for the project.
The company is refocusing its priorities on using rail in non-coastal areas to transport materials such as dolomite, gypsum and marble to its ports at Sohar, Duqm and Salalah.
Consultancy bids have been invited for the rail project that will link all the three major ports in the country.
In the roads sector, as many as 49 projects worth $5.43 billion are planned.
Real Estate & Tourism
Among the ambitious projects launched last year was the RO500-million ($1.3 billion) Mina Al Sultan Qaboos Waterfront, a major mixed-use waterfront destination. The project is being spearheaded by Oman Tourism Development Company (Omran), a government organisation mandated to drive investment and growth of Oman's tourism sector.
Omran recently awarded two major consultancy contracts for the first phase of the urban regeneration scheme covering a 101-hectare area at Sultan Qaboos Port.
Meanwhile, Omran's flagship Madinat Al Irfan project – the country's biggest urban development – is taking shape nicely with key milestones marked on the Oman Convention and Exhibition Centre (OCEC) precinct, the key initial asset in its first phase development (see Oman).
Another major project by Omran is the $600-million Saraya Bandar Jissah, an integrated tourism complex, which is set to receive its first residents shortly. The project spans 2.2 sq km and offers residential units, recreational facilities and two beachfront luxury hotels.
Omran has also joined hands with Al Diar Real Estate Investment Company of Qatar to develop the Ras Al Hadd tourism project, which will cover an area of 1.8 million sq m.
Another government authority that is propelling growth is Sezad, which is responsible for developing Duqm. The UK-based WS Atkins International has recently secured the consultancy contract for the detailed masterplanning of Duqm City.
Sezad has attracted a number of developers to join its efforts. For instance, Al Khonji Real Estate and Development (Aqar) has taken up land at the zone to build a mixed-use development at an investment of RO390 million ($1.09 billion) and Marina Duqm Company of the Golden Group will develop a major tourism complex at a cost of RO283 million ($731.6 million).
In the industrial sphere, site work has kicked off on the Sino-Oman Industrial City, which is expected to draw $10.7 billion in investment into the special economic zone.
Among other ambitious plans announced in Oman is the 'Muscat riviera' proposed by the Oman Investment Fund (OIF), which plans to develop Yiti and Yenkit, further along the coast from Barr Al Jissah in Muscat governorate, into modern tourist destinations.
Meanwhile, not much headway has been made on Omagine, a $2.5-billion mixed-use tourism and real estate project to be developed on a 1-million-sq-m beachfront area in the sultanate. The slump in global oil prices has meant project managers have been seeking further funding globally, said Omagine chairman Frank Drohan.
Industry
Oman continues its industrialisation drive with major ventures such as the $6.5-billion Liwa Plastics Industries Complex (LPIC) in Sohar.
Oman Oil Refineries and Petroleum Industries (Orpic) has been hitting headlines with impressive progress in unrolling the project. The foundation stone for the natural gas liquids extraction station at the complex was expected to be laid last month (January).
Work on two other parts of the project – the $2.8-billion steam cracking unit and the $888-million polypropylene and polyethylene production unit – started last September. The fourth part includes the 300-km pipeline to transport natural gas liquids from the Fahud station to Sohar Industrial Port at a cost of $112 million.
The Liwa complex will start operations in 2020. It is integrated with Orpic's Sohar refinery, where work has concluded on a $2.7-billion refinery improvement project.
More Stories