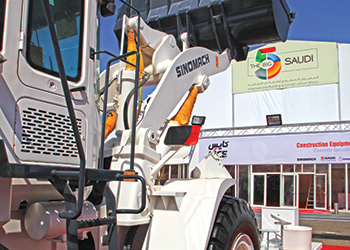 Show grows with new sectors
February 2017
The Big 5 Saudi 2017 is bigger than last year, and will have three new product sectors and the first conference dedicated to women in the construction industry.
The seventh edition of The Big 5 Saudi is set to expand its portfolio with the introduction of three new product sectors, dozens of certified workshops as well as the first conference dedicated to women in the construction industry.
Innovation and diversification are the keywords of the kingdom's largest and fastest growing construction show, which promises to align to the National Transformation Programme 2020 (NTP) and contribute to its success.
"The recently introduced Vision 2030 aimed at diversifying the Saudi economy away from traditional oil-related revenues is set to have a tremendous impact and stimulus on the construction sector and The Big 5 Saudi 2017 is ready to embrace it," says a spokesman for dmg events Middle East, Asia and Africa, the organiser of the show.
The mega event will run from March 27 to 30 at the Jeddah Centre for Forums and Events. It will bring together international manufacturers of construction machinery, mining equipment, building and natural stone to do business and network under one roof.
Beyond the returning building materials and finishing, and Concrete and PMV features, The Big 5 Saudi is planning to also host dedicated areas for commercial vehicles, building interiors and mining.
"There is a natural synergy between the mining and construction sectors," says Nathan Waugh, dmg events portfolio director.
"With a core element of Saudi Vision 2030 aimed at increasing the mining industry's economic contribution from the current $140 million to $26 billion by 2030, we believe this is the right time to expand our offering at The Big 5 Saudi, and meet the growing local demand for innovative solutions in both the construction and mining industries."
He says the introduction of a new building interiors sector will further facilitate construction professionals, who will be able to source all types of products and solutions for their projects at the show.
"The interiors sector constitutes 15 per cent of the average construction project value, and we want to make sure visitors are able to source everything they need conveniently in one place, at one time," says Waugh.
Worth an estimated $1.5 billion, Saudi Arabia's interiors and construction market is the largest in the GCC, and is expected to grow further boosted by the Saudi Vision 2030's diversification plans.
Last year, 21,000 participants attended The Big 5 Saudi, confirming the event as the number one platform for exhibitors and buyers in Saudi Arabia, he says. This year, the show is expected to attract even more visitors, hosting exhibitors from more than 20 countries looking to gain a share of the kingdom's $732-billion construction market.
Dedicated to women
The Big 5 Saudi's innovative features are not limited to new product sectors. For the first time, the event will dedicate a day to supporting women in the construction industry. On March 28, from 11 am to 4 pm, The Big 5 Saudi 2017 will host a series of presentations, panel and roundtable discussions providing a platform for women in all stages of their careers to learn, network and engage with like-minded professionals.
According to Saudi architect Sumaya Dabbagh, founder of Dabbagh Architects, encouraging women across all industries is really vital in the region. "There's a huge opportunity that is missed by not engaging a big part of the population, and this is particularly true in architecture," she says.
Empowering women and increasing their participation in the workforce is one of the objectives of the Saudi National Transformation Programme 2020; The Big 5 Saudi's Women in Construction Seminar is a pivotal project that is expected to help in materialising women's untapped potential in the construction industry.
More than just an exhibition, the event will feature live product demonstrations, dedicated Concrete and PMV zones, as well as the exclusive Platinum Club, gathering the Middle East and Asia's most influential construction professionals.
Aiming to facilitate business opportunities, the Platinum Club will support relationship building between members who are directly responsible for purchasing products and services for projects valued at more than $100 million, by providing valuable networking opportunities, customised assistance and an exclusive VIP experience.
Also on offer at The Big 5 Saudi this year are dozens of free-to-attend CPD (continuing professional development)-certified workshops delivered by industry experts. From project management to innovation and technology, and sustainability in construction, the event promises to provide an extensive free educational programme for architects, engineers, project managers, interior designers and other construction-related professions.
Visitors will be able to get a unique insight into industry's hot topics such as BIM (building information modelling), smart cities and the Internet of Things (IoT), Leed (Leadership in Energy and Environmental Design) and green products, and arbitration and dispute resolution in construction.
More Stories