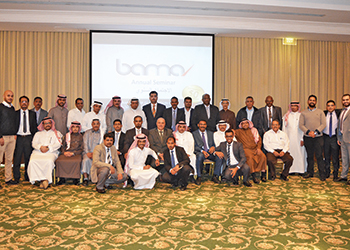 Bamardouf builds brand image
February 2017
Bamardouf is pitching its Bama brand as a complete system for ceilings, floors and walls and is rolling out new products in a major expansion drive.
Working tirelessly to establish its Bama brand as a complete system for ceilings, walls, floors, and accessories, Bamardouf Decoration Company has gone full throttle to introduce a comprehensive range of products in these sectors in addition to establishing tie-ups and new branches.
The Saudi-based company has concluded a highly successful 2016, capping its success by earning ISO (9001:2015) certification for its quality management system (QMS) which demonstrates its ability to provide consistently high quality products and an elite level of services.
Last year, it also opened two new showrooms in Riyadh and Madinah.
Bamardouf classifies its major products into four segments, namely ceilings, walls, floors, and accessories, and is building its own Bama brand as a complete system.
"So for example, in ceilings, we have Bama gypsum tiles and T-Grid suspension system. In walls, we have full partition accessories, such as screws, joint tape, corner tape and joint compounds, all under the Bama brand," explains a spokesman for the company.
The latest additions to the Bama range have been in floorings, namely the Bama laminate flooring, and the company is about to introduce a new luxury vinyl tile (LVT), which has a 360-degree locking design, and does not require adhesive.
Other Bama products include wallpaper adhesive, and the upcoming cement board joint compound. In addition, there are LED lights, access panels, aluminium ceiling strips made in Bamardouf's own factories and 3D wall leather panels.
Meanwhile, the company has partnered with major manufacturers, like Berry Alloc for LVT, to provide solutions for the projects market and convenience products for the DIY (do-it-yourself) segment, such as Knauf Insulation, Knauf dry wall system, Berry Alloc and Mica.
Other major brands it offers include USG Boral and Everest, among others.
Bamardouf also owns the Metal Suspended Ceiling Factory (MSCF), which produces two main easily installed products: aluminium strips and venetian blinds. Its factories are located in Al Khobar and Riyadh, while a third such facility is set to open in Jeddah.
Bamardouf has been making concerted efforts to meet the requirements of its customers and ensure their satisfaction.
The spokesman points out that customers in the region are becoming increasingly discerning. "Customers now require a higher quality products system approach to deliver one source warranty and a higher level of customer service," he says.
Hence, Bamardouf embarked on a key initiative to develop "ourselves from inside first", by training its personnel through the Bama Academy, organisational re-structuring, and centralisation. It also worked toward ISO9001:2015 certification, which was a "huge challenge". "Our entire team worked hard to achieve the ISO certificate before 2016-end - which we actually did," he emphasises.
Bamardouf has adopted an aggressive growth strategy for the next couple of years to ensure its continued success in the market. Key initiatives include expanding its footprint by adding more locations throughout Saudi Arabia; enhancing its team's training and development; getting closer to its customers by providing online technical consultancy; and introducing the first on-line material purchasing through its website.
The company also intends to expand its services by establishing branches in most GCC countries.
Bamardouf, which has over five decades of experience in the Saudi market, is building on its strengths which include a trained team, quality products, its full system approach to overcome challenges on the job site, and a distribution network that covers all areas of Saudi Arabia. It also offers on-the-job training through the Bama Academy, and after-sales services.
It also aims to increase awareness in the market about proper installation techniques and recently held an event in Al Khobar called 'Healthy Installation' for contractors, architects, and consultants, and now intends to host similar events in other areas of the kingdom.
Bamardouf has a host of projects to its credit including landmark projects such as Habib Hospital, Kingdom Hospital, Princess Nora University and King Khalid Airport Terminal Five in Riyadh; General Electric building and Tamimi Supermarket in Dhahran; Extra Store in Al Khobar; and Red Sea Mall, Burger King, Toshiba office, and Ikea in Jeddah.
It is currently working on the National Guard Housing Compound in Jeddah; a Royal Commission housing scheme in Jubail; a villas project in Jubail for Satorp; and the Prince Mohammad Bin Fahad University's student housing in Al Khobar.
More Stories