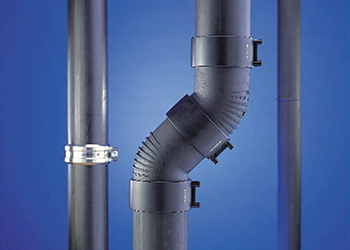 Geberit solutions cut back noise
February 2017
LOUISE PITT* of Geberit, a Swiss multinational group which specialises in sanitary and piping systems, highlights measures that can be taken to minimise waste water noise in building drainage systems.
Nobody likes to hear the noise of waste water. An aspect that is often neglected in the planning stages of building projects, we often see installation elements placed in direct contact with walls and floors and drainage pipes that do not absorb noise being installed.
Geberit offers complete piping systems and solutions that can reduce the noise of waste water from behind the walls and at the same time lead to a better design for all types of constructions.
There are some simple ways in which plumbers can implement sound insulation measures. For instance, Geberit sound insulation mats, which are installed between the toilet and the wall, prevent vibrations from being transmitted to the wall. Supply systems can be installed in line with sound insulation requirements by using fastenings that are insulated against structure-borne sound.
A prerequisite for ensuring good sound insulation is raising awareness among architects, sanitary engineers and craftsmen, as it is wrongly assumed that sound insulation in sanitary applications is expensive and not worth installing. If these people are familiar with acoustics, acoustic weaknesses and legal requirements, there is nothing standing in the way of a sound-optimised building.
In the planning and construction phase, architects determine whether (and how) rooms where sound insulation is required are placed next to bathrooms, toilets or kitchens. For example, there are different sound limits for bedrooms than for other rooms like kitchens. This needs to be determined in advance. If, for example, sanitary appliances – such as toilets and showers – and drainage lines are located along walls that are adjacent to a bedroom or living room, then this layout is poor in terms of sound insulation.
It makes sense to study the project beforehand and plan for complete systems that are sound-optimised. These comprise support systems such as Geberit GIS; mounting elements such as Geberit Duofix; and building drainage systems such as Geberit Silent-PP or Geberit Silent-db20. In this way, building owners can use a single system and its perfectly coordinated elements to ensure peace and quiet.
Geberit's two sound-insulated piping systems – the sound-optimised Geberit Silent-PP and the sound-absorbing Geberit Silent-db20 – can be combined together.
In multi-storey residential buildings, Silent-PP has proven itself in the inexpensive connection of washbasins, showers and toilets to the discharge stack. From here, the Silent-db20 then comes to the fore. When used together, plumbers can achieve an optimal cost-benefit ratio.
The Geberit Silent-PP piping system, which is suitable for the quick, efficient and sound-optimised installation of the building drainage system, features these key elements for optimal sound insulation. They are:
• Hydraulically optimised: The pipes are optimised so they can handle a higher load in the discharge stacks despite their smaller size. This reduces the amount of space that is needed for the shaft – which saves money and creates more living space;
• Sound optimised: The increased discharge capacity in the pipes decreases the noise that is produced; and
• Economical: As a result of their low expansion and high ring stiffness, the pipes can be installed without expansion sockets and are permanently sealed. The robust, mineral-reinforced three-layer pipes can also be stored outdoors due to their ultraviolet (UV) resistance.
The Geberit Silent-db20 piping system comes with integrated sound insulation. The system concept combines proper planning and assembly, prewall installations, the Geberit Duofix and know-how. It incorporates three other key factors that are essential for sound insulation:
• Geberit Silent-db20 pipes have a higher weight than other discharge pipes, being manufactured from mineral-reinforced polyethylene. This increases the weight of the pipes and fittings, reducing natural vibrations and thus sound; and
• Geberit has integrated sound insulation ribs in the water impact zones on these pipes, which further reduce the build-up of sound in particularly critical places.
• The system pipe clamps with an insulation insert decouple the drainage system acoustically from the wall and ceiling. This prevents the transmission of structure-borne sound to the wall.
Geberit, with its specialists and laboratories, has been building its expertise in the area of sound insulation in Switzerland and other countries since 1999. The sound insulation properties seen in typical situations using Geberit Duofix and Kombifix installation walls and the Silent-PP and Silent-db20 piping systems are tested in the laboratories. Replicas of various ways of constructing the installation walls – with bricks, gypsum boards, tanks and others – are set up in the building technology and acoustics laboratory. Geberit's experts then use these realistic measurement methods to reliably determine the sound levels that can actually be expected.
* Louise Pitt is marketing and CRM manager at Geberit International Sales in Dubai, UAE.
More Stories