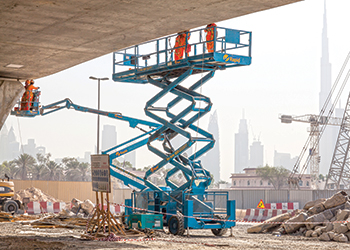 Business soars at Rapid Access
February 2017
With a strong focus on safety on the job site, Rapid Access is fast becoming the company of choice for access equipment, and a premier training provider.
Rapid Access has witnessed a sharp rise in demand for its platforms in the region as contractors become more safety conscious. It is also fast becoming known as the premier 'work at height' training provider in the Middle East within the construction and facilities management sectors.
In 2016, Rapid Access added more than 350 units in the Middle East, taking its fleet holding to almost 4,000 units – comfortably the largest in the region, claims Alexis Potter, sales and marketing director.
He says investment will continue in 2017 when the company will be investing in new equipment including some of the world's largest self-propelled units and a range of truck mounts and other booms and scissor lifts.
"We are pleased to be continuing to work on some of the region's largest and most significant infrastructure and commercial projects with a significant number of machines on the metro projects in Qatar and Riyadh, Jizan Economic City and the Clean Fuels projects in Kuwait," Potter adds.
Commenting on business, he says 2016 was a record year for Rapid Access with revenues growing year on year by 16 per cent. Regional market performance varied but the slowdown in Saudi Arabia has been more than offset by strong growth in Qatar, Kuwait and the UAE.
In terms of training, the company already delivers approximately 60 per cent of the IPAF (International Powered Access Federation) PAL (powered access licence) cards, with centres and trainers in most countries. In addition, it developed a further six trainers with Pasma (Prefabricated Access Suppliers' and Manufacturers' Association) to meet the increasing demand.
According to Rapid Access's regional QHSE and training manager Mike Palmer, the company has also recently developed its portfolio to include further internationally recognised qualifications to meet the requirements of the new code of practice from OSHAD (Abu Dhabi Occupational Safety and Health Centre) in the UAE and the anticipated legislative developments in the other GCC countries where international standards are fast becoming adopted in regards to worker competence.
Palmer has recently designed a Level One awareness and Level Two skills package of 'work at height' courses in collaboration with Highfield International awarding body. "Special interest has especially been shown in our Level Two Work at Height Skills, where delegates are assessed on safe working practice on a wide range of access equipment, understanding risk assessments and PPE (personal protective equipment) wearing," he comments.
Rapid Access points out that the GCC is becoming much more safety conscious and has seen rising demand for its BlueSky safety attachments.
"Responsible managers know that lost time due to safety incidents not only cause a dangerous work environment, but also wasted money," says Andrew Youssef, business development manager for BlueSky. "BlueSky safety attachments are in increasing demand as project and safety managers want to make sure that projects can run smoothly without interruption."
He continues: "Rapid Access has experienced a steep spike in demand for the SkySiren, a pressure-sensitive strip which stops the MEWP (mobile elevating work platform) if activated because of operator entrapment. This secondary guarding system has been mandated on several sites and by major customers such as Saudi Aramco."
Customers are also conscious of the fact that when they rent MEWPs, they want to maximise the efficiency of their hire. Rapid Access offers the SkySentry which has two main functions: Firstly, it prevents unauthorised use by only allowing operators who have a unique pin code or an IPAF card to use the machine; and secondly, it monitors the daily function of the MEWP which can produce specialised reports for customers.
More Stories