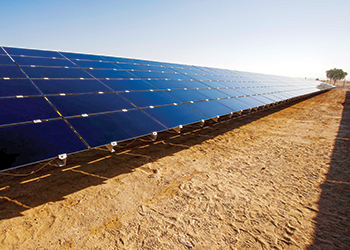 GCC pumps $320bn into power sector
March 2017
The total value of GCC power projects in the pipeline stands at more than $320 billion at present, of which over $100 billion are linked to renewable and alternative sources.
Interest in renewable energy across the GCC has been on the rise due to the surging demand for electricity which is set to hit 100 GW within the next 10 years, stated Ventures Onsite, a project tracking portal.
Availability of resources, improved technology and decreased costs, among others, are factors which make investing in renewable energy easier than before, it added.
The report quoted senior industry experts saying the GCC will require an additional generating capacity of 69 GW between 2016-2020 through development of projects worth $137 billion. What is required for the next 10 years is 100 GW, they added.
The experts said about 85 to 90 per cent of future renewable energy projects will utilise solar energy.
The UAE, Saudi Arabia and Kuwait have emerged as the biggest solar markets in the region.
Other renewable sources used for projects in the region include wind, geothermal and biomass while alternative sources like nuclear, coal-fired, and hydrogen-based power plants are also being developed or planned in the region.
A major initiative from the UAE has been the Dubai Clean Energy Strategy 2050, which aims for seven per cent of Dubai's energy to come from clean energy sources by 2020, 25 per cent by 2030, and 75 per cent by the year 2050.
Some of the programmes already initiated including Shams Dubai, which is aiming to have solar panels on every rooftop by 2030, usage of smart grid and smart meters.
GCC states are investing in the research and development for renewable energy with Masdar in the UAE, Qatar Foundation, Sultan Qaboos University in Oman, the Kuwait Institute for Scientific Research (KISR), and King Abdullah City for Atomic and Renewable Energy in Saudi Arabia taking the lead, the report stated.
Some of the major renewable energy power projects across the GCC include the Al Abdaliya integrated solar combined cycle (ISCC) power plant in Kuwait; the Taibah ISCC power plant in Saudi Arabia; the Mohammed bin Rashid Al Maktoum Solar Park in Dubai, UAE; the Miraah solar thermal park in Oman; the Shagaya renewable energy complex's (Phase III) 1,150 MW concentrated solar plant (CSP) in Kuwait, KA-Care's alternative energy projects in Saud Arabia, and the Sweihan IPP (PV) solar project in the UAE, it added.
More Stories