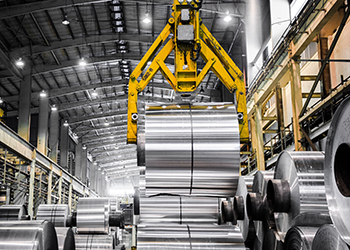 In brief
March 2017
$55m Garmco expansion on track
Construction work on a $55-million capacity expansion project at Bahrain's Gulf Aluminium Rolling Mill Company (Garmco) is 85 per cent complete.
The project is on track with the first cast expected in July this year and a gradual ramp-up towards full commissioning by the end of November.
Air pollution control equipment based on the latest technology is currently being installed and the pit is being prepared to accept all of the casting equipment which will be installed next month. The new casthouse, once complete, will enable Garmco to produce 120,000 tonnes of aluminium slabs.
Siemens, Bentley offer solutions
Bentley Systems and Siemens will jointly offer planning and design solutions for utilities in the Middle East. Building on an alliance made last November, Siemens' energy management division and Bentley Systems will develop solutions to accelerate digitalisation of planning, design, and operations for power utilities and industrial power customers.
The first of the new offerings will integrate Bentley Systems' utility design and geographic information systems (GIS) capabilities with Siemens' Power System Simulation (PSS) Suite, with specific solutions for power transmission, power distribution and industrial facilities.
Ikea Bahrain work on track
Work on Ikea's Bahrain store is on track for completion in the second quarter of 2018. Since the groundbreaking ceremony last October, Bahrain's Kooheji Contractors has taken over of the project.
Fruto Hernandez, Ikea Saudi Arabia expansion manager, said: "The enabling and foundation works of Ikea Bahrain are complete and the main work has started. Right now we are continuing with the slab works, water proofing, underground piping and precast order which are in progress. Our aim is for the store to be completed by the second quarter of 2018."
Initially, it was announced that the main contractor will be G P Zachariades, but the contractor was changed later. The project has an investment value of BD47 million ($124.76 million).
Idealmed JV to build hospital
Idealmed Group's joint venture firm Al Afia Healthcare Development and Investment Company, is to start work on a six-storey hospital in Oman.
Spread over a 10,000 sq m, the 100-bed Idealmed Muscat Hospital will come up in the Ghubra area of the sultanate, reported the Oman Observer.
Besides the Portuguese group, Al Afia Healthcare Development and Investment Company has Oman Brunei Investment Company and Suhail Bahwan Group as its partners.
The 100-bed hospital will have 43 specialised clinics, and centres for ophthalmology, orthopaedics, cardiovascular disease, and mother and child care.
Work to start on Capital City
Egypt said preparations were under way for the launch of the first phase of the $45-billion Capital City which will boast several key amenities such as a business and finance centre, an exhibition fair city and residential units on 10,500 acres of land in Cairo.
Dubbed as Egypt's administrative capital, the Capital City development is one of President Abdel Fattah Al Sisi's mega-projects that aims to kick-start Egypt's economy. On completion, it is expected to grow from 18 to 40 million people by 2050.
The project will be built over 700 sq km east of Cairo and will be executed within five to seven years at a cost of $45 billion.
$265m for Nurana infrastructure
Bahrain's NS Holdings Company plans to invest BD100 million ($265 million) over the next five years for infrastructure work at its upcoming mixed-use project Nurana.
A $1-billion development, Nurana will come up on 2 million sq m of waterfront land overlooking the Bahrain Fort and in close proximity to the Seef area.
Manara has been signed up to develop and manage the project that will feature a mix of coastal villas, waterview apartments, retail, entertainment, tourism and office amenities.
The scope of work includes constructing a tunnel to link the Nurana to Marsa Al Seef, a $2.5-billion project of Global Banking Corporation (GBCorp).
More Stories