Qatar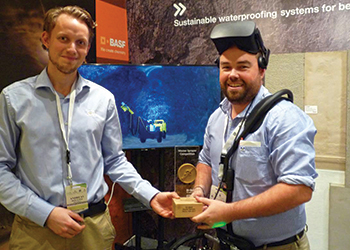 Membrane wins award
March 2017
BASF won a key award at the Arabian Tunnelling Conference and Exhibition, which was held in Dubai, UAE, last month.
The Innovation in Tunnels award was given for its MasterSeal 345, a membrane for waterproofing underground concrete structures.
MasterSeal 345 is spray applied in a sandwich structure between two sprayed concrete/cast concrete layers, creating a double bonded composite shell lining.
It is flexible and has very high bond strength on both sides and is an effective alternative to conventional sheet membranes.
As a double bonded system, it provides excellent water tightness, preventing the development of water migration on both sides.
At the event, BASF's Diletta Traldi from Italy made a presentation about the membrane while Nick Chittenden, regional sales manager for underground construction, moderated a panel regarding risk assessment.
BASF, which was a silver sponsor at the event, also had 3D shotcrete application simulator for anyone to try and take part in a Master Sprayer competition.
More Stories