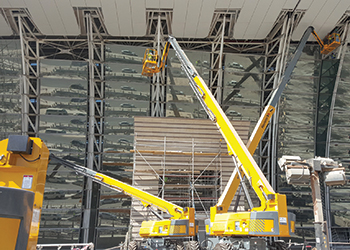 In brief
March 2017
Haulotte eases access on site
Haulotte has supplied a range of machines for interiors and exterior jobs at the under-construction King Abdul Aziz International Airport in Jeddah.
Covering a massive 105 sq km, the airport is being developed by Saudi Arabia's General Authority of Civil Aviation (GACA) to increase yearly capacity from 13 million to 80 million passengers. The development is planned to be in three phases, with Phase One construction to be completed by mid-2017.
The Haulotte machinery included the big booms HT43RTJPRO, HA41RTJPRO and HA260PX as well as diesel and electric scissors such as the H18SX and H15SX, 4WD and Compact 8. The products were supplied through Roots Group Arabia and United Gulf Equipment Rentals, Haulotte's partners in the region.
Foster + Partners wins hotel project
Foster + Partners has secured a major contract from Jabal Omar Development to design the masterplan of a luxury hotel and serviced apartments project in the heart of Makkah.
Jabal Omar Development awarded the contract after Foster + Partners won a major design competition for the project beating several others in the race.
The British group designed the project in a novel way reinterpreting the traditional dense building clusters and creating a new contemporary vernacular that respects its sacred location. Following the mountainous terrain, its cascading vertical elements form a new topography.
JEC work in full swing
State oil giant Saudi Aramco said construction is now in full swing at the Jazan Economic City (JEC) and also work is going at a steady pace at its refinery complex which is now about 70 per cent complete.
The 106-sq-km JEC is seen as pivotal to the economic development of the region and as a key future driver for foreign direct investment into the kingdom. The Jazan refinery will be equipped with a port and a 4 GW power plant that will make the refinery self-sufficient and provide power to locally owned manufacturing and service companies.
More Stories