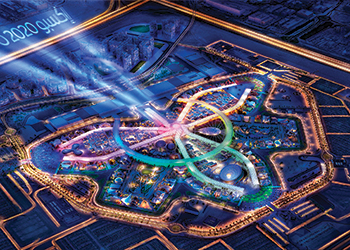 $3bn Expo deals to be awarded
March 2017
The organisers of Expo 2020 Dubai will award 47 construction contracts worth Dh11 billion ($3 billion) in 2017 as preparations for the first World Expo in the Middle East, Africa and South Asia continue to gather pace.
Besides this, a further 98 non-construction contracts worth Dh360 million ($98 million) will also be distributed by the end of the year. These will range from legal advisory services to event management and merchandising.
The construction contracts for 2017 include the third and final infrastructure package for the event's support areas such as car parking.
Other key awards for the year ahead include the construction of the three thematic districts that will host the majority of the pavilions, as well as the public areas and the design, development and delivery of all temporary architecture and infrastructure required to stage the event.
The Expo 2020 Dubai eSourcing Portal includes details of upcoming tender opportunities, as well as announcing contracts already awarded. These will range from smaller contracts to larger, multi-billion-dirham opportunities.
The announcement from the organisers shows that the event preparations are on track with the majority of construction activities to be completed a full year ahead of the event opening in October 2020.
Reem Al Hashimy, UAE Minister of State for International Cooperation and director general of Dubai Expo 2020 Bureau, said: "We are committed to working with leading businesses from across the world in order to deliver an exceptional event of this scale, on time and on budget. This is particularly true when it comes to the development of the physical site, which will live on long beyond 2021 to become an anchor for the UAE's developing knowledge economy in Dubai South.
"But just as importantly, the non-construction contracts to be procured this year will allow us to spread the investment made in the Expo as far as possible and enable local, regional and international businesses of all sizes to be part of what will be the most inclusive and international event in Expo history.
In 2016, Expo 2020 Dubai had awarded over 1,200 contracts, investing more than Dh2 billion ($544.5 million) in the economy. This included the appointment of an Orascom-Besix joint venture to develop the deep infrastructure at the Expo site in Dubai South. Once complete, the site will cover 4.38 sq km and host up to 300,000 people a day between October 2020 and April 2021.
More Stories