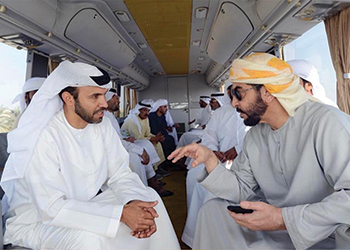 $1.4bn highway nears completion
March 2017
Work on the Dh5.3-billion ($1.44 billion) Al Mafraq Al Ghweifat highway, which will link the major cities in the Western Region and facilitate commercial transportation on highway, is progressing well, senior officials of Abu Dhabi General Services Company (Musanada) said.
They were updating Sheikh Hamdan bin Zayed Al Nahyan, the Ruler's Representative in the Western Region, on the ambitious highway project, according to state news agency Wam.
The first phase of the project was completed last year, while the remaining phases will be completed by the middle of this year, they added.
Sheikh Hamdan, after inspecting the work, stressed the interest of President HH Sheikh Khalifa bin Zayed Al Nahyan and the support of HH Sheikh Mohamed bin Zayed Al Nahyan, Crown Prince of Abu Dhabi and Deputy Supreme Commander of the UAE Armed Forces, in the development of the Western Region to ensure the welfare of its citizens.
He underlined the need to double the efforts during the next period to complement various development projects.
More focus must be given to providing better accommodation, health services, education, roads and transport, as well as stepping up activities of departments and agencies to implement ambitious plans in this respect, stated Sheikh Hamdan.
"This reflects the keenness of Musanada on implementing the directives of the leadership as per the Abu Dhabi Plan to ensure an effective transport system to serve the emirate's society, economy and achieve the roads' network in line with the vision of the emirate to establish a sustainable infrastructure in accordance with the best international standards," he added.
More Stories