UAE Focus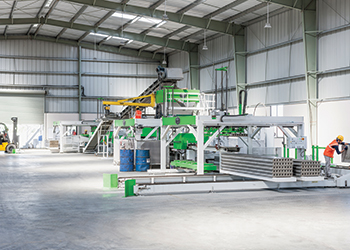 Precast firm gets Elematic line
March 2017
Elematic has supplied an Acotec PRO line to RAK Precast for the production of non-load bearing interior precast wall panels.
With this new technology, RAK Precast has not only expanded its product range but is also the first Acotec wall panel producer in the UAE.
According to a RAK Precast spokesman, the deal includes the delivery of Elematic Acotec PRO production line for the production of light, non-load bearing, room-high precast partition wall panels. The plant has a 100-sq-m-per-hour capacity whilst the production line covers the entire process from concrete batching all the way to storage yard management and beyond. The line will be installed in RAK Precast's factory located in Dubai Industrial City.
"Acotec wall panels are proven and well-known for their many excellent qualities, such as moisture resistance, fire resistance and excellent sound insulation," he said.
Furthermore, RAK Precast has also acquired the newly introduced ELiSLAB 2.0 structural analysis software tool for hollow core slabs.
This new tool embraces all relevant hollowcore slab calculation points as well as offers an array of smart and practical features to make the calculation work faster and easier, such as including openings and topping to the calculation, factory-based profiles and strand patterns and national annexes to Eurocodes.
More Stories