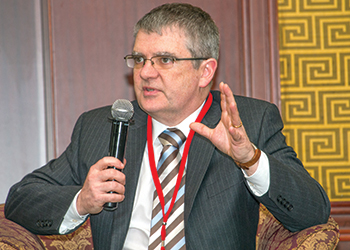 Experts shed light on fire protection
March 2017
Fire protection in building design was the theme of a one-day technical conference held in Dubai on February 22.
Experts in design and system structures covered topics ranging from fire prevention and management in new buildings to evacuation and building-management strategies for existing structures.
Speaking at the conference, Dr Andrew Taylor, a fire protection specialist from tremco illbruck, said 80 per cent of deaths in fires are caused by smoke and toxic fume inhalation, not by burning. In fact, 57 per cent of those who died were not even in the same room as the fire. "For example, fire in a 6-cu-m room with dry-walling division can flow into an adjacent room through a single pencil-diameter hole so fast it can restrict vision at 40 cm in just three minutes and forty seconds!"
He said passive fire protection must be incorporated into building design to contain and compartmentalise the thermal effects of a fire as long as possible and maintain stability of the structure.
He spoke on the methods of applying and advantages of fire-resistant intumescent coatings on steel structures, focusing on lessening of the load-bearing capabilities of beams at raised temperatures.
Commenting on certification and compliance, Abhishek Chhabra, business development manager from Thomas Bell Wright International, said certification was usually paid for by the contractor, not the developer or eventual owner, which raised the subtext of "who guards the guardians?" Good compliance, he said, involved the use of third-party testing and verification that contractor compliance and the standards of materials were as specified and that it was the responsibility of owners and stakeholders to check on certification.
Reviewing the types and levels of certification, Michael Luna, director of compliance at Vanguard Consultancy, identified 'self declaration' where the manufacturer of fire-resistant materials was least stringent. Tougher were affiliated certifications (by trade association members) that required laboratory tests monitored by an independent administrator to prevent bias toward members. The most stringent was third-party certification, where an independent agency performed testing, validation and auditing.
Captain Mohammad Alkatheeri, fire safety manager and fire protection branch manager with Abu Dhabi Civil Defence, said there was comprehensive regulation concerning fire prevention. He stressed the necessity for built-in design of fire containment and compartmentalisation in the design and construction of new buildings, and the need for appropriate signage and properly maintained firefighting equipment in existing structures as part of a proactive approach to fire prevention and containment.
Safety expert Sajid Raza voiced the need to involve occupants, stakeholders and managers of buildings in raising fire safety standards as retro-fitting buildings with built-in fire prevention measures was usually impractical. There were post-build changes that could be made but, he emphasised, strict observance of fire safety requirements and equipment made a substantial contribution to fire safety.
Shamim Rashid-Sumar, who specialises in fire code consultancy, fire dynamics and the strategies of fire prevention and evacuation presented a powerful argument for a consolidation of the disparate bodies concerned with fire prevention. Her argument highlighted the complexity of bringing together and building a more effective structure that combined the best of current practice and drew on the vast experience of the industry players.
Speakers contended that it was essential to conform to the terms and standards of fire certification in the construction of buildings and their management post-occupancy.
More Stories