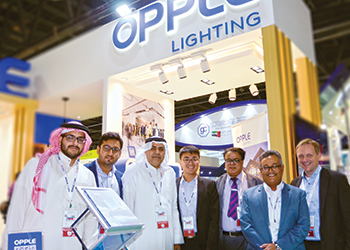 Manara shows way to save energy
March 2017
Al Manara Electric Trading Company staged specialist technical seminars in late January in Riyadh and Jeddah for energy saving LED lighting systems.
The Riyadh-headquartered Al Manara invited dealers, contractors and engineers to the seminars to highlight Opple Lighting's portfolio of energy-saving lighting systems from China as well as Panasonic, Tec-Mar, Fumagalli and other top lighting brands.
Al Manara was founded in 1987 and is one of the largest distributors of switches and lighting products in Saudi Arabia, with branches in Dammam, Jeddah, Madina, Tabuk, Qassim, Hail and Khamis Mushayt. Its tradition of customer-centric technical engagement is underpinned by a strong engineering and a project-led technical approach to sales, supply and service support.
Al Manara and Opple are gaining market share particularly when legacy lighting systems such as incandescent bulbs are being replaced for energy efficiency and aesthetic reasons and for new construction projects. The Opple portfolio is built on energy efficiency, safety and innovation and is increasingly becoming the preferred choice in LED technology. Importantly, Al Manara and Opple engineers and technicians can effectively demonstrate the cost-benefits of smart LED technologies through references for retrofit or new builds at multiple locations across the region and internationally.
Al Manara's Opple product manager Mohamed El Hitami said that the region's lighting and luminaire sector is highly competitive but Al Manara is boosting its market share thanks to the confidence placed in its smart lighting portfolio and commitment to Opple technologies.
Increasingly, Al Manara and Opple are being specified across the private and government sectors against tough local and international competition, he said.
"We look to be close to our market and Al Manara wants to ensure that we partner effectively with an increasing number of clients to ensure close engagement, consistency through our technical services, and demonstrate our proven reliability in supply to the projects we handle and service across Saudi Arabia through our principals such as Opple," El Hitami said.
The first Opple seminar was staged in Riyadh followed by Jeddah where Al Manara engineers were on hand for the many attendees. The seminars included technical presentations, discussions, one-on-one meetings and the relaying of detailed product information. The seminars also included an array of specific illuminated product examples from the Opple portfolio to raise awareness of both functionality and aesthetics of the brand.
Dubai-based Ali Toor, marketing manager for Opple Lighting, was in attendance at the Saudi seminars.
Launched in 1996, Opple Lighting has risen within 20 years to become the largest Chinese lighting company. Internationally, Opple opened its first overseas branch office in Dubai in 2006 to cover the Middle East and North Africa (Mena). Since then five more countries have started Opple operations including Brazil, India and Holland.
In the Mena market, the Shanghai-based Opple has earned a reputation for quality, innovation, agility in its supply-chain, customisation through its engineered-to-order approach particular in terms of anodised colours and cost savings through energy efficiencies.
"Opple lighting provides more value. It is customer-centric, has a wide portfolio and its lighting solutions can be engineered to order. We are doing well in Saudi Arabia, the UAE and North Africa and we are continuing to invest in the region," said Toor.
In Saudi Arabia there are a raft of Opple references displaying innovative design and aesthetics with luminaire life as long as 20,000 hours and guaranteed energy savings up to 80 per cent.
In the Kingdom Tower, LED downlights are deployed in the Mamlaka shopping mall and the Jeddah Mall has Ecomax LED strips. The Movenpick hotel in Jeddah and the Mercure hotel in Riyadh uses Opple lighting systems. Worldwide flagship references include Adidas in Belgium, and Mercedes Benz in Holland.
Opple was a dominant presence at the 2017 Middle East Electricity (MEE) exhibition in Dubai last month, where it demonstrated its expertise in several key applications covering office, hospitality, retail, commercial and industrial sectors.
Al Manara has the Al Manara Panel Board Factory in Riyadh and represents Opple, Panasonic lighting, Tec-Mar, Fumigalli for maintenance-free outside lamps of galvanised steel and resin, Lutec, Cosmo, Skylight and Terasaki.
More Stories