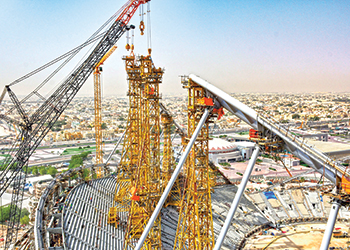 Partners in progress
March 2017
Qatar's construction sector is being kept busy with the Fifa World Cup, as the country woos
the private sector to get more involved in economic development.
A public-private partnership law expected to be announced soon could provide an impetus to Qatar's ambitions as the nation gears up to host the Qatar 2022 Fifa World Cup.
Qatar is aware that it needs to turn to the private sector to ease its financial strain in pushing forward its pipeline of projects which form part of the $200-billion infrastructure programme launched by the country to host the World Cup. The World Cup alone is expected to cost about $30 billion, with stadiums accounting for $10 billion of that.
The proposed law on public-private partnerships (PPPs) would make PPPs easier to operate and expand their use into other sectors, apart from power and water projects where it has been used, and its framework would present opportunities in sport, health and education, including a programme to build between 10 and 12 public schools.
A recent study by the Ministry of Development Planning and Statistics (MDPS) predicted that Doha will run budget deficits for at least three years as it adjusts its economy to the fall in oil prices, which have dropped by more than half since 2014. The MDPS's Qatar Economic Outlook indicated that Doha was expected to run a budget deficit of 7.8 per cent last year, Qatar's first in 15 years. This will increase to 7.9 per cent in 2017 and fall to 4.2 per cent the next year, it added.
According to a Gulf Times report, Qatar is to pump in about QR46 billion ($13 billion) on mega projects this year. Apart from World Cup projects, these new investments will cover other sectors like education, healthcare and transportation, finance minister Ali Sherif Al Emadi was quoted as saying in the report.
The country has been indicating its keenness in attracting foreign investment. For instance, last September Sheikh Ahmed bin Jassim bin Mohamed Al Thani, the Minister of Economy and Commerce, visited the US, where he spoke on the investment opportunities afforded by Qatar while highlighting its flexible and multi-faceted economic strategy derived from the Qatar National Vision 2030.
In line with Qatar's economic diversification, new economic zones managed by Manateq as also being set up.
BMI Research projects a robust outlook for the country's construction industry, underpinned by major investment flows into commercial construction and transport networks as Qatar prepares to host the World Cup and works to diversify its economy away from hydrocarbons and into knowledge-based sectors. Fiscal stability, investor interest and the anticipated increase in oil prices will provide crucial support to the government's infrastructure spending plans, says the research firm in its latest infrastructure report on Qatar.
According to the report, the most significant industry expansion will come between 2017-2022, at an annual average of 12 per cent in real terms, after which growth will slow as big-ticket projects related to the World Cup conclude.
Qatar's construction industry is expected to record 11.6 per cent real growth in 2017 with the transport infrastructure sector and non-residential building the primary beneficiaries of increased spending plans for the construction industry as outlined in its 2017 budget.
"The approval of Qatar's 2017 budget supports our bullish outlook for the growth of the country's construction sector, with 21 per cent of the total QR198.4 billion ($54.4 billion) allocated to the transport sector and 47 per cent earmarked for projects related to the hosting of World Cup," the report said.
Road and rail will dominate the pipeline as Qatar moves to establish a more integrated transport system and connect Doha to major urban and industrial centres. Non-residential building will post the strongest growth between 2017 and 2022 as investment flows into tourism infrastructure and the construction of stadium complexes in preparation for the major sporting event.
BMI Research, however, points out that demand for the luxury commercial and residential sectors is still weak in comparison to regional peers like Dubai, as developers hold off on planned projects until infrastructure is in place, construction costs fall and existing supply is sold.
Spearheading the country's World Cup ambitions is the Supreme Committee for Delivery & Legacy (SC), which has launched work on eight stadiums that will host the World Cup games (see pg 52).
Public Works Authority Ashghal meanwhile is presently working on projects worth more than QR39 billion ($11 billion) in what is one of the biggest highway construction and upgrade projects in the world. Currently, 11 expressway projects are in different stages of construction and 10 more are in the design phase.
The most important ones are those related to the 200-km New Orbital Highway and Truck Route starting from New Hamad Port to Ras Laffan Industrial City. The project has been awarded in four packages worth a total of $4.6 billion.
As Qatar pushes ahead with its massive construction programme, key concerns for construction firms include the shortage of skilled labour and inflated costs of building materials. To address the latter issue, the Qatar Primary Materials Co (QPMC) was established over a decade ago to ensure supplies of building materials to the local market. QPMC recently inaugurated one of the largest bulk materials handling systems in the Middle East and one of the largest globally.
Airport
Qatar has approved plans for the expansion of the new Hamad International Airport (HIA) in Doha that boost its ultimate capacity to more than 65 million passengers a year. The tendering process for the expansion, which is the third phase of its development, will start this year. According to Akbar Al Baker, the group chief executive of Qatar Airways, the operating airline of the airport, the design for the expansion has already been completed.
Economic zones
Qatar is setting up special economic zones that will allow for 100 per cent overseas ownership. A draft law approved by Qatar's cabinet allows for the creation of an airport or seaport in the economic zones which will allow companies "unrestricted transfer of capital out of the country", state news agency QNA reported.
Under the draft law, Qatar plans three economic zones: a warehousing and logistics hub specialising in airfreight and technology, close to Hamad International Airport; a light manufacturing site for petrochemical and food processing firms; and a zone near the Saudi border that would focus on businesses involved in construction materials and machinery.
The first phase of the warehousing hub will be completed in early 2017, according to Manatec, which will operate the zones.
Roads, Railways & metro
Qatar Rail has made significant progress in the construction of the Doha Metro, with more than 50 per cent of the total works on the four lines having been completed following the successful tunnelling of the entire 53.25-km stretch.
The operations contract of the project is likely to be awarded in the second quarter of 2017 and the first train would start running in the last quarter of 2019.
Meanwhile, Work on the Lusail Light Rail Transit, comprising 32 km of lines and 35 stations, is slightly behind schedule with 44.8 per cent of the overall work done so far.
The total distance covered by the Doha Metro is a little more than 111 km. This is apart from the nearly 38 km of mainly underground light transit rail being developed in Lusail. The entire 300-km development is due for completion in 2030 .
Meanwhile, Asghal's QR50-billion ($13.7 billion) Expressway Programme aims to provide critical road network links to key areas around the country, including industrial areas, airports, ports, residential, business and tourism districts.
Designed to create new east-west and north-south links throughout the country, it comprises 40 major projects and involves construction of 900 km of new and upgraded roads besides 348 bridges and underpasses.
Among the projects, nearly 40 per cent of the work on Dukhan Highway East development has been completed and on track for launch by the second quarter of 2019.
In September last year, Qatar gave the go-ahead for two expressway projects – the Al Khor and the E-Ring upgrade – worth a total of $2.83 billion.
Two main lanes of the New Orbital Highway and Truck Route are set to open for traffic by the end of 2017. The East-West Corridor is due for completion in the second quarter of 2017. The scope of work includes construction of 22 km of a new dual carriageway on the expressway which will feature five lanes in each direction stretching from the west of Barwa City to Al Matar Street south of the Air Force Roundabout.
Real Estate
The Pearl-Qatar, a massive man-made island, continues to evolve, with its developer United Development Company (UDC) having awarded contracts worth QR716 million ($197 million) to develop three new projects at the development.
The signing will see UDC develop Abraj Al Mutahidah Towers in Viva Bahriya, further develop the infrastructure in Giardino Village and construct 10 villas in the same precinct, through investments worth QR1.2 billion ($329.4 million).
One of the largest privately held real estate projects being developed in the country is Al Wa'ab City, which is spread over a sprawling 1.25-million-sq-m area. The project's 400,000-sq-m Central District will consist of a 1.4-km walk-through spine with retail, residential buildings at the eastern and western ends, a commercial building at the southwest corner and a four-star hotel at its centre.
Meanwhile, Barwa Real Estate Group plans to complete the work on 12,000 residential units in the next four years in line with its commitment to provide homes to citizens at reasonable rents. Among its key projects is a 350-unit residential project and a workers accommodation, besides a 3.6 million-sq-m golf city in Doha, Dara A project in Lusail City, Madinat Al Mawater and Mustawdaat projects and the extension of Barwa Village.
Among other landmark projects, Doha Festival City, described as the largest entertainment and retail hub in the Gulf, has entered into its final phase of development and is set to open its doors to this month (March). The giant development is being built at an estimated cost of QR6.5 billion ($1.78 billion). It is home to more than 500 international and local brands along with entertainment and food and beverage (F&B) offerings.
The much-anticipated Mall of Qatar opened last December. Built at a cost of $1.4 billion, the 450,000-sq-m mall has 500 shops including over 100 F&B outlets, a 19-screen cineplex, a family entertainment complex and 7,000 car-parking spaces. The complex also has a five-star hotel – Curio, a Collection by Hilton.
Other key real estate projects include Ezdan Holding Group's QR4.5-billion ($1.23 billion) Ezdan Oasis, a mixed-use project featuring as many as 8,679 apartments and several commercial establishments; and two buildings designed by late Iraqi-British architect Zaha Hadid, including a tower shaped like a desert flower close to the site of the 2022 Fifa World Cup final.
More Stories