Riyadh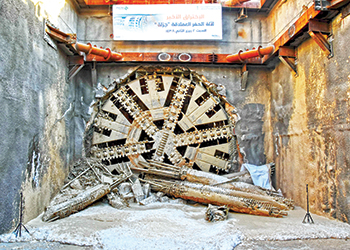 Metro shines in work safety
March 2017
The Riyadh Metro notched up a new safety milestone in January this year, exceeding three million safe work hours without a single lost-time incident, US consultancy Parsons reported.
Parsons is part of the Riyadh Metro Transit Consultants (RMTC) consortium, which is the engineer of record for two Riyadh Metro contracts. The other two partners in the consortium are French engineering groups Egis and Systra. RMTC is performing programme and construction management services with Parsons in the lead role in health, safety and environment (HSE) management.
"Safety is one of Parsons' six core values, and we are firmly committed to maintaining a safe and healthy environment in all of our offices and on each of our projects," said Gary Adams, Parsons Group president. "I am very proud of the RMTC project team for achieving such a significant safety milestone; their shared commitment and combined efforts have seen the application of stringent HSE policies and standards enforced on site for all key stakeholders."
Parsons has offices in the UAE, Qatar, Saudi Arabia, Oman, and Bahrain. Its portfolio of projects in the region includes major oil and gas projects as well as highways, bridges, rail and transit, airports, ports, water infrastructure, plus hospitals, public schools, universities, mosques, and other public buildings.
More Stories