Hospital Construction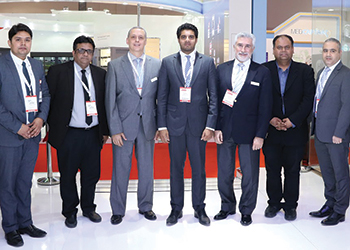 Thumbay buys 500 beds
March 2017
Thumbay Hospital, a network of academic hospitals operated by the healthcare division of Thumbay Group UAE, has signed a memorandum of understanding (MoU) with Hill-Rom for the purchase of 500 beds to support its healthcare projects in the Middle East and India over the next four years.
The agreement was signed at Arab Health 2017 exhibition in Dubai in January by Akbar Moideen Thumbay, vice-president of the healthcare division of Thumbay Group, and Hisham Hout, president – Middle East, Africa, Turkey and Indian Sub-continent of Hill-Rom.
Thumbay said: "Hill-Rom will provide quality branded hospital beds, long-term care beds and surgical solutions apart from other branded products to Thumbay Hospitals for the upcoming projects, according to the agreement."
Thumbay Moideen, founder president of Thumbay Group, said the MoU is an important step for the healthcare division of Thumbay Group, with plans to extend the Thumbay academic hospital network globally.
"The Thumbay academic hospital network will have a total of 1,000 beds in the UAE, 1,500 beds in India and 750 beds elsewhere in the Gulf and Africa by 2022, taking the total number of hospitals to 15 worldwide. With this, Thumbay Hospital will become the largest network of academic hospitals in the Gulf region," he added.
More Stories