Hospital Construction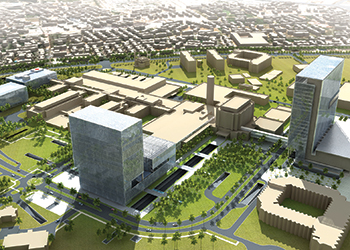 Protective role in Riyadh
March 2017
Wrightstyle, a leading supplier of steel and aluminium glazing systems, has completed a prestigious healthcare project in Riyadh, Saudi Arabia.
The contract was for some 2,000 sq m of external protection to VIP areas of the King Faisal Specialist Hospital and Research Centre, which has over 900 beds and some 7,000 staff. The contract was of particular significance as the company believes that it is one of the largest high-level security projects ever specified.
Not only did the system have to accommodate extremely thick and heavy glass and resist a high level attack, it had to span a significant double-floor height and fit within a limited glazing zone so to seamlessly integrate with the standard glazing used adjacent to it, according to a spokesman for Wrightstyle.
"Our SR60 curtain-wall system met all the specified challenges, with its 4-mm-thick steel profiles," says Lee Coates, Wrightstyle's technical director. "Our comprehensive test data for security applications allowed us to specify for the project, and to then conduct project-specific testing to substantiate its performance."
The contract underlines the specialist nature of the protective glazing industry, with Wrightstyle's integrated steel and glass systems being rigorously tested worldwide for a range of international markets.
More Stories