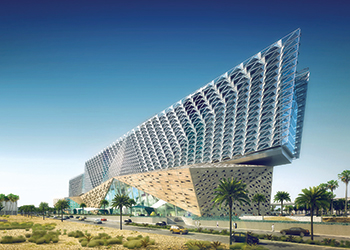 Children's hospital to set a record
March 2017
SSH, a leading masterplanning, building design and project management firm, has been appointed by Kuwait's Ministry of Health and Ministry of Public Works to design what will be the largest children's hospital of its kind in the world.
The firm is undertaking the project in association with global architects HKS and engineering firm WSP on a design-award-construct basis. The design was revealed for the first time during the Arab Health Conference held from January 29 to February 1 in Dubai, UAE.
Spread over 300,000 sq m within the Al Sabah Specialty Medical Area in Al Shuwaikh, the new tertiary children's hospital will feature a total of 792 beds that will suit all medical needs and methods of treatment.
According to an SSH spokesman, the concept has been delivered with a futuristic theme, comprising innovative and functional design that incorporates state-of-the-art technology and energy conservation. "The Kuwait Children's Hospital will be built using the highest standards of construction, materials and equipment. It will provide a welcoming, comfortable, stress-free and home-like environment for its patients and their respective families," says the spokesman.
The facility includes diagnostic and treatment centres to complement all tertiary-care services, along with other non-clinical support and public departments. Non-healthcare structures, functions and services are also part of the scope, which includes 2,400 car-parking spaces, a helipad to support emergency air transport services and a daycare centre for infants, pre-toddlers and pre-schoolers, dedicated to children of staff working at the proposed facility. In addition, five shelters for civil defence will also be part of the plan.
"There has been a growth in demand for healthcare construction in the Middle East region and SSH, with its extensive experience in the sector across the globe, is best placed to contribute to the development of this sector," says the spokesman. "Our rich pool of shared professional expertise and knowledge is invaluable in a sector where design integrity matters, and facilitates collaboration with clients to create buildings that assist with the healing process."
"SSH continues to produce world-class architecture that facilitates faster recovery, improving the standard of care offered by the hospital's operators. With the growth of the healthcare sector in terms of hospitals and the growing specialised healthcare workforce, alongside the technological developments, SSH is well-placed to lead healthcare design into a new 'gold standard' generation of healthcare," he adds.
Founded in 1961, SSH is a leading masterplanning, infrastructure, building design, construction supervision and project management firm in the Middle East, with a reputation for design integrity and a portfolio that includes landmark projects throughout the region.
SSH's multifaceted practices include architecture, urban design and planning, structural and civil engineering, MEP/building services, interior design, highway and bridge engineering, storm water drainage, utility design, sanitary engineering, marine engineering and district cooling, in addition to high-profile project management and construction supervision services. The firm maintains offices in the UAE, Algeria, Bahrain, Iraq, Kuwait, the UK, Oman, Qatar and South Africa.
More Stories