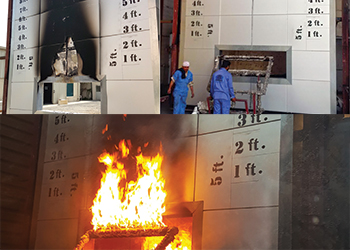 Tried and tested all the way
March 2017
New laws in the UAE puts the onus on builders and developers to ensure that cladding systems and passive fire protection solutions are code-compliant.
The new national fire regulations that have recently come into effect in the UAE with the publication of the new Fire and Life Safety Code of Practice take a robust and comprehensive view on fire safety standards at all stages of construction, says Siderise Group, one of the UK's leading manufacturers of fire, acoustic and thermal insulation products.
Siderise, which is renowned for its diverse range of fire-stopping insulation solutions, has a unique insight into the industry and the code. The company offers a range of innovative and industry-leading passive fire protection systems which provide compartmentation in high-rise buildings.
Commenting on the new revised code, Steve Swales, chief commercial officer at Siderise says: "We have witnessed a large interest and uptake in system testing and have been involved in numerous tests to the various permissible standards."
The updated fire code, which has been welcomed by the industry, has placed greater requirements on curtain-walling and cladding products, and introduces a thorough list of tests that must be conducted. While it represents a challenge to all stakeholders, there are new stringent requirements with respect to installation and the quality of workmanship. It's vital that all installations are 'as-tested', says the company.
"High-rise and super high-rise pose greater risk so it is imperative that systems that go into these buildings are tested accordingly, in the most demanding way, because there is little margin for failure," says a spokesman for the company, adding that proper installation is also equally vital.
In the past, elements that were designed specifically to mitigate fire were invariably left out or not actually installed properly, for instance the perimeter firestop was often not installed correctly or there was a lack of compartmentation measures within large uninterrupted cavities behind cladding systems.
With respect to the fire performance of non-load-bearing external cladding systems – whether applied to the face of building or fixed to and supported by a structural steel frame - Siderise has been involved in fire performance testing to the US standard NFPA 285 and British standard BS 8414 Parts 1 and 2, both of which are permissible with respect to the new UAE Fire and Safety Code of Practice.
This testing has been carried out by cladding panel suppliers of all types including aluminium cladding material and aluminium composite panel (ACP) providers – and separately in conjunction with thermal insulation stakeholders.
"The market has been stimulated to ensure that all systems are code-compliant," says Swales. "There has also been a rigorous evaluation of compliant barriers which fit within the various systems."
The code states that cavity barriers shall be incorporated into façade design at every floor, horizontally and vertically, to restrict flame spread. There is also specific performance and location requirements including where the cavity is a necessary part of ventilated façade design and needs to be maintained.
In this case, 'open-state' cavity barriers are used which comprise advanced intumescent materials that allow ventilation and drainage in the cold state, but close in a fire, providing separation in the cavity. These have typically been included as horizontal barriers in recent tests for open joint cladding systems, in conjunction with full-width seals used as vertical cavity barriers. In other closed-joint panel system tests, where there is no ventilation requirement, Siderise cavity barriers used both horizontally or vertically are full-width seals which have also been tested with respect to the code.
While the new code will not be applied retrospectively, when existing buildings undergo maintenance, any cladding or system which is non-compliant to the current code will provide an opportunity to install compartmentation measures using cavity barriers, such as those provided by Siderise which lend themselves to retrospective installation.
It is recognised that the spread from floor-to-floor and over the façade of a building can lead to a catastrophe.
"As well as providing greater requirements on curtain-walling and cladding products all building products and systems will have to be independently tested, audited and certified by approved third-party bodies. The code will also place new responsibilities on building owners to maintain the life safety measures within their buildings. "Once a fire safety strategy is in place, it needs to be managed and maintained through the life of the building, a crucial consideration when you consider a building occupier might change the building fabric or materials. Unless the strategy has ongoing review, every change to the building can potentially increase risk and jeopardise life safety," concludes the spokesman.
More Stories