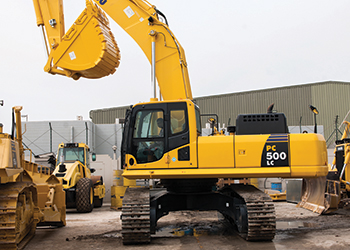 Komatsu rolls out new heavyweight
March 2017
Komatsu, a Japanese manufacturer of construction and industrial machinery, has launched a new hydraulic excavator in the region, which offers the largest productivity in the company's 50-tonne class line-up.
The PC500LC crawler excavator has been mainly designed for quarry applications and comes in two configurations: the PC500LC-8R and the PC500LC-8R SE.
"The heavy-duty excavator is powered by a Komatsu SAA6D125E-5 engine giving 362 HP of gross horsepower at 1,900 rpm. But despite its high power, it has low operation noise. In economy mode, it saves fuel consumption. Thanks to its robust construction, it offers excellent durability of the strengthened undercarriage and improved stability," says Ashraf Hashish, senior GM – marketing, of Komatsu Middle East.
The excavator with its STD specs bears a max digging height of 11.15 m and a max digging depth of 7.91 m. It features an extra heavy counterweight, reinforced revolving-frame, and reinforced swing circle; and can accommodate a bucket capacity from 2.7 up to 4 cu m.
Komatsu has fitted the machine with a heavy-duty boom that has a 7-m and 6.7-m length for the STD and SE configuration respectively along with a 3.4-m and 2.4-m arm for the same configurations.
With the operating weight of 47,700 kg on the standard machine and 49,900 kg on the SE machine, the machine affords high stability during the hammering application. Meanwhile, the optional variable track gauge greatly increases lateral stability.
The arm crowd force at maximum power is 232 kN on the standard model and 281 on the SE version, while the maximum bucket digging force is 242 kN and 289 kN, thus increasing the machine productivity comparing to other machine in its range.
The designers at Komatsu have focused on operator safety and comfort in the PC500LC-8 and 8R. The operator cab is large (3 m by 3 m) and comfortable and significantly cuts down noise from the outside. The highly pressurised cab offers optional air-conditioning, and has low vibration with cab damper mounting.
In terms of safety, the cab has been designed with a rollover protection structure (ROPS) that help protects the operator from injuries caused by machine overturn or rollovers. Additionally, the excavator is fitted with anti-slip plates for work.
Also, the machine can be fitted with Komtrax, a machine tracking system from Komatsu that monitors the machine condition and helps improve machine effectiveness and optimisation.
More Stories