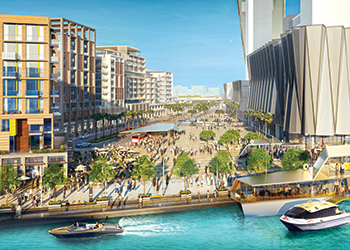 News in brief
March 2017
Azizi to build part of Meydan One
Meydan Group has entered into a partnership with Azizi Developments initiating a residential and retail project in Meydan One which will cover 180 plots.
Launched in August 2015, the Meydan One features an integrated city and destination for business, sport and lifestyle in Dubai, UAE. The development is located between Meydan and Al Khail Road and is set to become Dubai's eminent attraction when the first phase opens in 2020.
Azizi's venture within the massive 40-million-sq-ft destination is a low-rise residential and retail project from G4 to G10 floors. It is located near Meydan One mall, which has a 150 by 80 m retractable roof, creating a one-of-a-kind, alfresco shopping and dining atmosphere.
Azizi's project will also be within close proximity to amenities like schools and hospitals. The site preparation will begin once detailed plans for the project are drawn up.
Saeed Humaid Al Tayer, chairman and CEO of Meydan Group, says: "Meydan is a name that evokes opportunity and we are glad that the Azizi Developments has partnered with us. Like us, they are investing in the future."
The record-breaking Meydan One become home to more than 83,000 residents. It will feature Dubai One Tower, which is the world's tallest residential tower at 711 m and have 895 apartments with access to the world's highest 360-degree observation deck and the world's highest sky-view restaurant. The Civic Plaza's record-breaking features include the world's largest dancing fountains (a 4 km canal and marina), the longest indoor ski slopes (1 km) and a massive multi-purpose sports facility covering 270,000 sq ft with over 5.3 km bicycle and jogging trails, a 9-km boardwalk, a 300-m-long beach and a heritage village.
Danube sells most of Miraclz
Danube Properties says 95 per cent of its Dh400 million ($108 million) Miraclz project in Dubai, UAE, has been sold.
Located in the Arjaan neighbourhood close to Miracle Garden, the Miraclz tower offers 591 units ranging from studio to two-bedroom apartments, where each home is fully furnished and equipped with modular furniture, where the living room turns into a bedroom with a full-sized bed at night.
The complex's amenities include retail spaces, swimming pool, a health club, tennis court, badminton court and an amphitheatre.
Rizwan Sajan, founder and chairman of Danube Group, says: "Our seventh project is almost sold out and the construction progressing very well."
Danube has also introduced Indian actress Sushmita Sen as its brand ambassador. Other on-going projects under the Danube portfolio include Dreamz, Glitz 1, 2 and 3, Starz, and Glamz.
Diyar Al Muharraq projects make good progress
Diyar Al Muharraq said work is progressing on track on two of its projects in Bahrain.
Phase Two of infrastructural work for Sarat is nearing completion in line with the forecast date, says Diyar Al Muharraq CEO Dr Maher Al Shaer.
Works completed include all deep services such as the foul sewer network, 14 11 kV electrical substations and handed over to Electricity and Water Authority (EWA) and electrical plant within the substations. Shallow services such as potable water network and electrical network are currently being fitted. The road network for the site is also being constructed.
Sarat is an integrated residential community that includes all the amenities of a modern lifestyle for its residents.
Meanwhile, construction of the first floor of all residential villas on Deerat Al Oyoun – its flagship social housing project – is complete, and work is now being carried out on the infrastructural elements.
The project covers a total area of 1.2 million sq m. Phase One of Deerat Al Oyoun, which encompasses 133 units, was launched on September, 2016.
More Stories