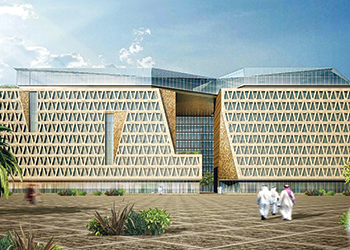 Reynaers delivers bespoke solution
March 2017
Reynaers Middle East has embarked on an ambitious initiative in line with its vision to increase the value of buildings and enhance the living and working environment of people worldwide.
The Hermas Business Centre in Doha, Qatar, for which its aluminium systems are currently being supplied, boasts a unique and locally developed project solution utilising Reynaers' bespoke curtain-wall systems.
The design architect for this project, which is expected to be completed this year, is the internationally renowned KPF (Kohn Pedersen Fox Associates) based in New York, US. The client is Diafah Investment Company of Qatar.
Reyaners' team was required to devise a customised solution for the Hermas Business Centre and this was achieved through a specialist 'Consult and Project Team' comprising senior project managers.
The team included Abdulla Mayoof, technical manager, Reynaers Middle East, Ali Zalaikh, project manager, Reynaers Middle East, and Teodor Caragioiu, façade specialist – project engineer at Reynaers Aluminium, Belgium.
Mayoof says the building design required the incorporation of three different types of curtain-wall systems. Two of these were bespoke solutions. "The bespoke solutions were developed using customised unitised curtain-walling while the third system is based on the concept of CW 60-SC (Structurally Clamped)."
The systems were made using specific fabrication and assembly methods employing a new technology, called formdrill, and with newly developed and patented connection systems.
With this project, Mayoof points out that Reynaers had added yet another landmark featuring highly customised solutions that it holds the distinction of having offered to its clientele.
"We are very proud of this solution developed and implemented locally for a project in the Middle East, which is a hallmark of Reynaers' efforts to produce top quality solutions worldwide. This solution is now patented by Reynaers Aluminium," he adds.
Commenting on the challenges encountered in creating this specific solution, Zalaikh says: "The greatest challenge for this project was to achieve a unitised façade system capable of taking vertical live load movements of +/-25 mm. Additionally, we had to create this system with structurally glued glass, where the whole element could be dismantled individually from inside the building for glass replacement, as required."
Furthermore, the project design required a non-conventional connection method on the ground floor stick façade system to accommodate a horizontal canopy cantilevered 2 m to the outside and subject to a vertical wind load of 1.6 KPa, adds Zalaikh.
He elaborates: "The roof level curtain-wall has a complex shape in which two-piece expansion profiles connect together, accommodating angles of between 138 to 180 degrees. This was achieved through an invisible connection of a two-axis swayed (staggered) mullion purely by mechanical fastening that essentially means no welding despite high wind load capability."
Reynaers Middle East is the Bahrain-based regional subsidiary of Reynaers Aluminium, a leading European specialist that manufactures and markets innovative and sustainable aluminium solutions for windows, doors, curtain-walls, sliding systems, sun-screening and conservatories.
Besides a wide range of standard solutions, the company also develops tailor-made solutions for all market sectors – from residential to commercial and industrial projects. Reynaers' high-quality systems meet the most stringent demands in terms of comfort, security, architectural design, and energy-efficiency. It acts a valuable partner – for architects, fabricators, solar installers, project developers, investors and end-users.
Founded in 1965, Reynaers currently employs over 1,770 workers in 40 countries worldwide and exports to more than 70 countries on five continents. The company, with its headquarters in Duffel, Belgium, achieved an annual turnover of €387 million ($411 million) in 2016.
More Stories