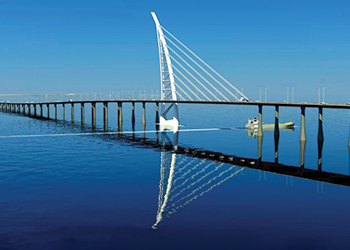 $3bn Kuwait bridge on track for 2018 opening
April 2017
Kuwait said about 73 per cent of the work on its ambitious $3-billion Sheikh Jaber Al Ahmad Al Sabah Causeway project (also known as the Subiya bridge) has been completed and the 36-km-long engineering marvel is on track for launch in 2018.
Once completed, Subiya – one of the world's longest causeways – will cut the driving time between Kuwait City and Subiya to 20-25 minutes from 90 minutes now, reported AFP, citing a senior official.
The causeway contract was awarded to a consortium led by South Korea's Hyundai Engineering and Construction along with Kuwait's Combined Group Contracting Company.
The bridge, located between 9 m and 23 m above sea level, sits on more than 1,500 piles with a diameter of up to 3 m each, some of which have been driven as deep as 72 m (240 ft) into the loose clay seabed, according to project engineer Mai Al Messad.
The causeway will act as a key link to the remote north Subiya region, where Kuwait will pump billions into a 'Silk City', aiming to revive the ancient Silk Road trade route.
Investment in the Silk City project is expected to top $100 billion, and a 5,000-MW power plant has already been built in Subiya, said the report.
"The causeway project is a strategic link connecting Kuwait City to the northern region," said Ahmad Al Hassan, assistant undersecretary for road engineering at the public works ministry.
"We have already completed 73 per cent of the project and hope to finish it ahead of the contractual period," said Messad.
A large container port is also under construction on nearby Bubiyan, Kuwait's largest island, she added.
More Stories