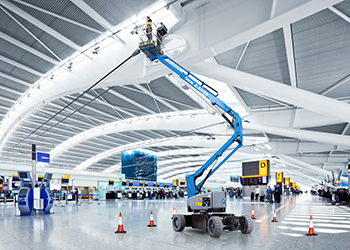 New Genies well received
April 2017
Genie's revolutionary new all-electric Z-33/18 and Z-60/37 DC boom lifts offer new perspectives to rental companies and end-users in the Middle East.
The new generation of 'two-in-one' Genie machines allow operators to work indoors and outdoors with a single unit without sacrificing drive performance to provide high rates of machine utilisation, said a spokesman for the company.
"Easy to operate, productive and cost-efficient to own, these machines offer rental companies the opportunity to re-think the way they manage their fleets," said Charbel Kordahi, managing and sales director, Terex Middle East.
Powered by an efficient three-phase AC electric drive system, the Genie Z-33/18 can drive longer distances, requires less charge and costs less to maintain than units equipped with DC transmission. Its lift is significantly lighter than traditional machines in the 12 m category.
Dean Jones, general manager of Dubai-based AJI Heavy Equipment Rental, which received six Z-33/18 booms lifts, said the model is so versatile, its "machines are under constant demand, providing excellent returns on investment".
The new articulating Z-60/37 DC boom offers zero emissions and full workday operation on just one charge. It is powered by high-efficiency sealed three-phase AC electric drive motors offering the ability to operate while submerged in up to 91 cm of water. The 4WD unit can go 25 per cent faster and climb slopes.
For the Dubai Park and Resorts, Al Mahroos, Genie's authorised distributor in Dubai recommended three all-electric Genie Z-60/37 DC booms.
"Thanks to its excellent range of motion, versatile, quiet, clean performance and four-wheel drive abilities, this model is an excellent and cost-effective alternative to separate diesel and electric-powered units. For us, the Z-60/37 DC boom ticks all the right boxes," said Nishad Abdulla of Dubai Parks and Resorts.
More Stories