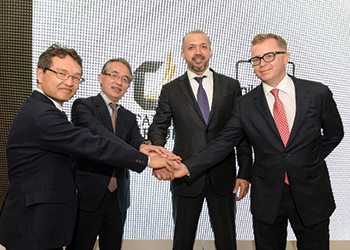 Nikken Sekkei to design waterfront
April 2017
Cayan Group has signed an architectural contract with Japan's Nikken Sekkei for its upcoming SR1.2-billion ($320 million) mixed-use waterfront at Obhur in Jeddah.
Cayan's new project, which will sprawl over an area of 140,000 sq m, will boast two towers: one a five-star hotel and the other branded residences offering high-end living.
Unveiling its mega Obhur waterfront at the Mipim property show in Cannes, France, last month, Ahmed Alhatti, the chairman of Cayan Group, said: "This is another foray for us into the hospitality sector in the Middle East, signalling our commitment to investing in the growing sector in Jeddah and elsewhere."
The mixed-use project is being developed in Jeddah to take advantage of the city's growing prominence amongst visitors and residents.
An award-winning firm, Nikken Sekkei offers comprehensive professional consultancy on real estate projects and it has been at the forefront of iconic and unique buildings across the world such as the Yamaha Ginza, Hoki Museum, Guangzhou Library. It is currently involved in many projects across the Middle East including the UAE and Saudi Arabia.
"We are happy to be a part of yet another Cayan Group project. The beauty and uniqueness of these projects inspire us all. We look forward to capturing Cayan Group's vision, integrating the project with the natural beauty of the Obhur waterfront and contributing towards the completion of this project," remarked Kamei Tadao, the president of Nikken Sekkei.
More Stories