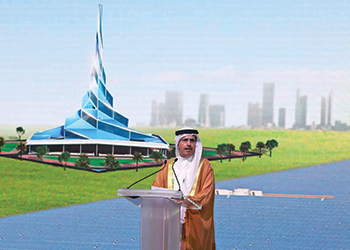 Key phase of $13.6bn solar facility opens
April 2017
Sheikh Mohammed bin Rashid Al Maktoum, the Vice President, Prime Minister and Ruler of Dubai, last month inaugurated the second phase of the Mohammed bin Rashid Al Maktoum Solar Park at Seih Al Dahal in Dubai.
The solar park is being developed by Dubai Electricity and Water Authority (Dewa) in co-ordination with a consortium led by Saudi-based Acwa Power, the main developer of the project, and TSK from Spain.
The solar park is one of the major projects that Dewa is implementing to achieve its strategy of utilising renewable energy.
The largest single-site solar park in the world, based on the IPP (independent power producer) model, will be developed at an investment of Dh50 billion ($13.6 billion), said a top official.
"The project aims to achieve a planned capacity of 1,000 MW by 2020 and 5,000 MW by 2030," remarked Saeed Mohammed Al Tayer, the chief executive and managing director of Dewa.
On completion of the second phase, the solar plant will generate 200 MW of electricity, enough to power 50,000 households, said Al Tayer.
This phase can also reduce 214,000 tons of carbon emissions annually, he added.
More Stories