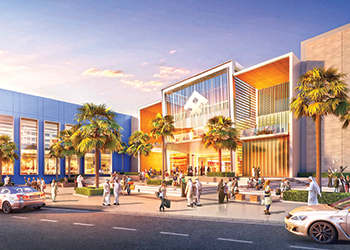 Al Futtaim breaks ground on mall
April 2017
Al Futtaim has broken ground on a new mall located on a 78,500-sq-m site in Jebel Ali.
The mall forms part of a 15 million-sq-ft mixed-use community being developed by wasl Properties.
It is located along the Abu Dhabi-Dubai Highway and is being built as part of the first phase of the development. The mall will offer a variety of retail concepts within 55,000 sq m of leasable space and be home to Dubai's second Ikea and the brand's newest concept store globally.
The Ikea store will spread over 30,000 sq m, with additional restaurants and coffee shops.
Alongside Ikea, 100 retail stores are also being leased, alongside a food court and café-style dining, entertainment, a large hypermarket and an Al Futtaim ACE hardware store, all set to be completed by Q1, 2019.
The ACE outlet will offer more than 33,000 products including exclusive ranges for ACE, Worx power tools, Addis home products and Broil King barbecue brands.
In addition, it will feature an in-store cafe and garden centre with plants and accessories.
With over 2,000 parking spaces, the mall will target residential communities in Jebel Ali, Dubai Marina and those travelling from Abu Dhabi.
The second phase of the development will include wasl Gate, a residential precinct to be developed by wasl properties, which will include 1,457 homes, accompanied by a lifestyle-oriented hospitality and entertainment offering, a sports complex, K-12 schools, and a central park.
The mall is strategically located to offer ease of access from Sheikh Zayed Road and the metro station.
More Stories