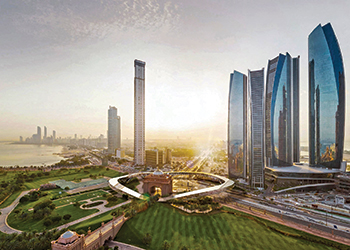 Hyperloop One reveals test site
April 2017
Hyperloop One released the first images of its 500-m full-scale test structure at the development site (DevLoop) at the Nevada desert in US, on the opening day of Middle East Rail expo in Dubai last month.
The US-based company had last year signed a deal with Dubai's Roads and Transport Authority (RTA) to study high-speed Hyperloop routes in the UAE.
Conceived by Tesla CEO and inventor Elon Mush, the futuristic Hyperloop system is based on propelling unmanned capsules or pods at great speeds of up to 800 miles per hour (mph) through tubes that connect one destination with another.
This revolutionary mode of transportation could transform the future of the GCC as it would ease pressure on the existing transport infrastructure and provide a faster, more efficient and cleaner system of mobility, said a senior company official at the Dubai expo.
It presents the potential for the Middle East to reinvent and transform transportation, remarked Hyperloop One CEO Rob Lloyd while providing the international keynote address at the 11th annual conference.
The 500-m-long DevLoop, which has a diameter of 3.3 m, is located 30 minutes from Las Vegas in the Nevada desert. The company is expected to perform a public trial in the first half of this year.
"With a Hyperloop One system in place, there is ability to further unify the alliance of the GCC, socially, culturally and economically," said Shervin Pishevar, the executive chairman and co-founder of Hyperloop One.
"The Hyperloop could further enable diversification and could make a huge impact on the region's relatively young and growing population, reimagining how cities and countries in the region work together. Progress made on the DevLoop in just five months demonstrates how quickly we could bring Hyperloop to the GCC and to the world," observed Pishevar.
The benefits of Hyperloop are said to include higher standards of safety than a passenger jet, close to half the construction and lower maintenance costs than high-speed rail and energy usage that is similar to a bicycle per kg-km.
Hyperloop One estimates that it could cut the travel time between Abu Dhabi and Dubai to a mere 12 minutes, from the current two-hour drive by road.
More Stories