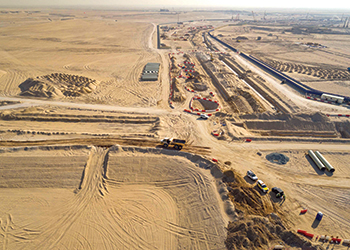 Themework
April 2017
Al Futtaim Carillion will be developing the theme districts at the Expo 2020 Dubai venue under a $599-million contract.
UAE-based Al Futtaim Carillion has just started work on the Expo 2020 Dubai site, having been signed up as the main contractor for the development of the Dh2.2-billion ($599 million) theme districts of the project.
The contract for development of the three theme districts is the first of the Dh11-billion ($3 billion) construction contracts that Expo 2020 Dubai plans to award in 2017.
When the mega event opens on October 20, 2020, the theme districts will be home to 136 pavilions for many of the participating countries, non-governmental organisations (NGOs) and commercial partners at Expo, and will host cutting-edge exhibits and experiences for Expo's many millions of visitors to enjoy.
In total, the theme districts – named Opportunity, Mobility and Sustainability after the Expo's three sub-themes – and the buildings within them will have a floor area of 222,000 sq m and have been designed to reflect traditional Dubai architecture.
The first World Expo to be held in the Arab world and Middle East, Africa and South Asia region, Expo 2020 Dubai is expected to attract 25 million visitors from October 2020 to April 2021. The expo site is spread over 4.38 sq km, including a 2-sq-km gated area is located within Dubai South District, adjacent to Al Maktoum International Airport.
The three theme districts spread outwards from Al Wasl meeting plaza, each boasting its respective theme pavilion.
According to Ahmed Al Khatib, the vice-president (real estate) at Expo 2020 Dubai, the flexibility of use was the key design consideration for the theme districts as part of Expo 2020 Dubai's legacy after its closure in April 2021. Over 80 per cent of the site will be reused or repurposed in the legacy phase, when these districts will become a vital part of the future Dubai South ecosystem that connects businesses in the transport and logistics, travel and tourism, real estate and education sectors – to create a thriving knowledge economy.
"Construction of the infrastructure commenced last year and we are right on track with our plans," Al Khatib says. "With the theme districts construction award, we are starting the main phase of buildings and construction. All excavation works for the theme districts basements have been completed and are ready for the appointed contractor to begin construction."
"We will follow up with other construction awards this year," he adds.
Proven record
Ahead of any major construction package, Expo 2020 Dubai runs a pre-qualification process open to all contractors. Thirty-five from around the world responded for the theme districts. Al Futtaim Carillion was successful in a competitive procurement process.
On the Dubai group's selection, Al Khatib says Al Futtaim Carillion has a proven record of successful delivery of buildings and infrastructure projects for the commercial and public sectors in the UAE.
"Their experience, knowledge and capabilities on major projects qualifies them to undertake the theme district construction work for Expo 2020 Dubai," he notes.
According to him, the contractors were assessed and shortlisted based on their capabilities, approach towards construction and safety, proven commitment to quality and timely delivery, strong supply chain, and their ability to deliver sustainable solutions.
"This matches our intention to obtain Leadership in Energy and Environmental Design (Leed) Gold certification, which is one of the most popular green building certification programmes used worldwide," he states.
Public spaces in the theme districts will host innovative shades and climate control solutions, which together with the passive design of the buildings, will create a comfortable and enjoyable visitor experience.
Meanwhile, Expo 2020 Dubai has signed a memorandum of understanding (MoU) with Dubai Electricity and Water Authority (Dewa) to become an official sustainable energy partner.
The two organisations will also work together to deliver a sustainable World Expo. Dewa will provide Expo 2020 Dubai with electricity and water from October 2020 to April 2021, excluding the electricity that will be generated at expo's site.
Dewa is building a smart grid to become the first network in the world to provide the entire value chain of generation, transmission, and distribution systems to the Expo. Its Mohammed bin Rashid Al Maktoum Solar Park will provide Expo 2020 Dubai with a dedicated capacity of 400 MW of electricity. Dewa is also building three 132/11 kV substations – named Sustainability, Mobility and Opportunity, after the three subthemes of Expo 2020 Dubai – with 45 km of high-voltage (132 kV) cables.
The total cost of Dewa's electricity projects to support Expo 2020 Dubai will be Dh420 million ($114.35 million).
Expo 2020 Dubai aims to have 50 per cent of its power needs supplied from a variety of renewable energy sources, including ground-breaking projects of its own, such as the Sustainability Pavilion.
More Stories