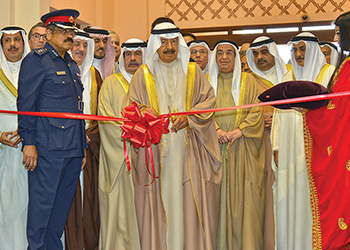 Expo redefined
April 2017
This year's premier showcase for the construction, interiors and real estate sectors is poised to gain impetus with gulfBID rebranded as Gulf Construction expo and Gulf Property Show set for a record.
Bahrain's premier expo for construction and building materials returns this year, acquiring its new name from the region's leading construction magazine, Gulf Construction.
A rebrand of gulfBID, the Gulf Construction Expo 2017 is taking place this month (April 25 to 27) under the patronage of His Royal Highness Prince Khalifa bin Salman Al Khalifa, the Prime Minister of Bahrain, at the Bahrain International Exhibition and Convention Centre.
The expo takes place in conjunction with two other major events – Gulf Interiors and Gulf Property Show – providing the biggest integrated business-to-business showcase for the construction, interiors and property sectors ever to be staged in the Northern Gulf.
Jubran Abdulrahman, managing director of Hilal Conferences and Exhibitions (HCE), the organiser, comments: "The name change is a strategic branding opportunity to tie in the goodwill of the GCC's most successful construction journal Gulf Construction, which has for over 35 years been the publication of choice for the construction industry not just in the GCC but internationally."
"The Gulf Construction Expo will build on the successful foundations set by gulfBID for over 10 years, by continuing to deliver the Northern Gulf's showcase for the construction sector to a targeted visitor base of property developers, interior designers, architects, consultants and contractors, procurement managers and investors from around the GCC.
"The expo will remain an innovative showcase for the construction sector through its added value benefits and virtual exhibition," he adds.
This year's event has maintained the strategic sponsorship of Haji Hassan Group of Companies and RP-KP Group. Both companies will be presenting their diverse portfolio of services and products dedicated to the construction sector.
Amongst Haji Hassan Group companies at the expo will be the Arabian Parts Company, Bahrain Asphalt, Arabian Chemical Industries (Isola), Haji Hasan Readymix, Bahrain Pipes, Bahrain Precast Concrete, Bahrain Blocks and Haji Hassan Reinforcement.
The expo has for the first time attracted product and services-related sponsors.
The Plant and Machinery sector is sponsored by Motor City, the sole distributor for Hyundai Heavy Industries (HHI), a leading manufacturer of plant and machinery. On display from the HHI brand will be a wide range of hydraulic excavators, wheel loaders, backhoe loaders, skid-steer loaders and industrial vehicles.
United Commercial Agencies (UCA) is championing the HVAC (heating, ventilation and air-conditioning) sector as sponsors through Midea. At the show, it will be announcing its agency for the Midea brand, a premier producer of electronic appliances.
Al Mezal General Trading is the Green Technology sponsor. The company is the sole agent of Italian energy-saving brand Politerm Blu.
The exhibition is hosting a high number of specialist companies from Saudi Arabia as well. These include Espac, Plastbau Arabia, Fabco Plastic Factory, Al Hoty Stanger, Sandwich Panel Factory, Adwan Chemical Industries, Rezayat Protective Coating and Al Drees Industrial and Trading (Alitco).
Other major players from the GCC's construction industry exhibiting at the expo include Al Nooh Wood Design, Moiz Trading, Paramount Doors, Dream Group, Bramco, Saberi Construction, Al Gillidary Trading and Industry, Alaa Al Jazeera Elevators, Paschal Concrete Forms, Rentech ME/Polycon Bahrain, LightLint and Cleantec, to name a few.
The expo is supported by the German Chambers of Commerce (AHK), PHD Chambers in India, British Expertise and a host of media partners.
Gulf Interiors
The best in design and luxury standards set by Bahrain's interiors design houses will be showcased at Gulf Interiors. This year's line-up includes architects, interior designers, importers and dealers who have chosen the platform for luxury interiors, design and furniture to network and market their products, says Abdulrahman.
Hempel Paints has renewed its position as strategic sponsors and will be using the show as a unique marketing proposition to launch its new collection of innovative décor paints, Topaz Colour Trends 2017.
Unveiling new design products this year will be Bahraini brand Mobilia Uno. It will be showcasing its latest collection of residential and commercial luxury furniture and accessories.
Fatima Al Ansari Designs, another home-grown design house, will be making its debut at Gulf Interiors, introducing its architectural and interior design services.
Other exhibitors include ID Design, Al Maraya Décor, Saleh Al Jallawi Group, National Paints UAE, Dar Al Mimari Windows and Doors, Universal Enterprises, Plaffix, Grapevine, Blue Zone and Al Amal House Trading.
Supporting organisations for Gulf Interiors include the AHK and the Ministry of Industry Commerce and Tourism.
Gulf Property Show
The Gulf Property Show has received a record number of sponsors, while breaking last year's record size.
This year, Diyar Al Muharraq and Manara Developments have signed up as strategic sponsors. The show's gold sponsors are Bahrain Marina Development Company and First Bahrain Real Estate; and silver sponsors are Khaleeji Commercial Bank and Fontana Real Estate.
Abdulrahman says the Gulf Property Show has continued its year-on-year growth to be HCE's largest show to date, adding that many prominent property developers in Bahrain will be unveiling major real estate developments at the show.
Bahrain's Diyar Al Muharraq will feature its iconic eponymous development and other landmark projects including Al Bareh, Al Naseem, Al Qamra, Deerat Al Oyoun, Diyar Homes, Diyar Town Centre and Dragon City. Diyar Al Muharraq will also focus on commercial plots available for investment at highly lucrative projects, such as commercial villa plots, the B5 residential building plots, light industry/logistics and warehousing plots and commercial showroom plots. Also taking centrestage will be the Marassi Al Bahrain Development by Abu Dhabi's Eagle Hills Developers at Diyar Al Muharraq.
Manara Developments will be offering units from its major residential projects, such as Wahati, Kenaz Al Bahrain
and Hasabi.
Bahrain Marina Development will make its public debut of its mixed-use development along Manama's marina coastline as Bahrain's new prime tourist destination. Meanwhile, First Bahrain Real Estate Development will present the El Mercado Residential Development.
Fontana Real Estate will be promoting its exclusive luxury residential lifestyle towers in Juffair.
Other major developments to be showcased include Water Garden City, Hanging Gardens of Dilmunia and Canal View. Other leading developers exhibiting at the show will be Bin Faqeeh, Ahmed Al Qaed Group, Al Maawdah Group, Grnata Group, Naseej, Jaffria Waqf Directorate and GFH Real Estate.
Khaleeji Commercial Bank and other leading financial institutions will offer special personal and home financing packages for real estate buyers at the show.
Visitors can also see leading projects from the UAE, Turkey, the UK, the US and Bosnia.
To guide visitors through the maze of developers, HCE has partnered with EXCPY, an app connecting digital content to physical spaces and indexing brands, locations and events at a citywide level. Visitors can even make advance enquiries or register interest for properties on the show's unique property search feature on www.gulfpropertyshow.net.
The organisations supporting the Gulf Property Show include Bahrain's regulatory real estate authority Survey and Land Bureau and the Bahrain Property Developer's Association.
More Stories