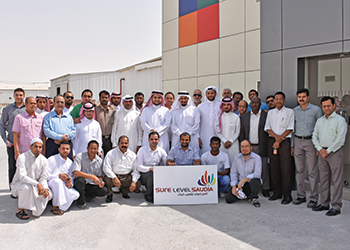 Trass to launch new products
April 2017
Bahrain-based Trass Building Materials, which is a franchisee of Sure Level Saudia, will be promoting a wide range of cement-based adhesives, putties, waterproof tile adhesives and grouts manufactured by the Saudi-based venture at the Gulf Construction Expo.
Sure Level Saudia is a joint venture between Al Jaber Group of Saudi Arabia and Australia's Sure Level. Trass Building Materials has been marketing products from the company for the past eight years in Bahrain.
"The response to these products is good in the market and we currently rank Number Three in the supply of this range of products," Vijith Mohan, director, tells Gulf Construction.
At the expo, Trass will be unveiling a number of new products from Sure Level. These include Sure Putty, a readymix water-based filler putty consisting of a special fine powder and synthetic polymers for interior wood and cement surfaces such as door, frames, wall, ceiling and gypsum boards; and Sure Bond, an economical quick-drying adhesive, sealer and bonding agent and cement admixture which has many applications.
It will also launch the FC-1004 floor covering adhesive, a new-technology, high-performance, low-solvent, low-VOC (volatile organic content) acrylic carpet and vinyl adhesive that offers good bond strength.
Trass Building Materials is returning to the expo after a gap of five years, to benefit from the upsurge in construction activity in Bahrain. "The market is picking up," says Mohan. "There has been a surge in construction activity in Bahrain, which is particularly evident in the Juffair area, where a number of new projects are under way."
The client-centric Trass Building Materials, which has been winning and dealing with clients on a personal level, believes exhibitions such as the Gulf Construction Expo provide the company with good exposure and present an ideal opportunity to interact with new and existing clients in the marketplace while enabling it to secure leads and new business.
Trass Building Materials is part of the Trass Group, which was set up in 1996. The trading company was set up in 2006 and is now looking at offering a wider range of products from Sure Level.
Apart from Sure Level's products, the firm also supplies paint thinners and acetone of Farbe, Italy, and is also a reseller of other building materials such as paints.
Trass Group's flagship company is Trass International Construction, a Grade A contractor for private sector projects and registered as Grade B for government projects which undertakes construction of villas and low-rise buildings.
More Stories