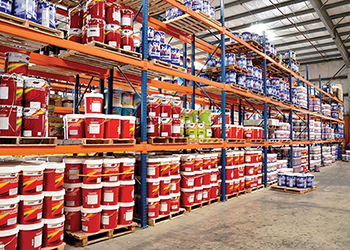 Paints ace to spring a surprise
April 2017
Middle East Paints Factory intends to make a "surprise launch" in the decorative paints sector at this year's Gulf Interiors expo, where it will showcase construction paints and wood paints from its main Middle East brand, as well as the Classic, Racket, Mepco and Maxtra brands.
The Saudi-based company specialises in the field of industrial, decorative and construction paints as well as wood paints and paste products manufactured at seven production lines with a production capacity of 60 tonnes per day.
Founded in 1993 as part of the Balahmar Group of Saudi Arabia, Middle East Paints is a leader in industrial, decorative and construction paints and has ISO and Saso 2008-9001 certifications.
The company, which has relocated its factory to a sprawling 10,000-sq-m area in Jeddah Industrial City, boosted its production capacity last year after acquiring new technology and machines from top European companies.
"Middle East Paints has made significant investments in equipping its factory with the latest technology in paint production and testing facilities such as quality control and research and development laboratories and state-of-art machinery, besides recruiting qualified staff with wide experience in the paints sector," says Ali Omar Balahmar, its general manager.
Middle East Paints Factory has introduced a number of new products on the market such as wood varnish, glaze, and a variety of ecofriendly paints, including water-based decorative coatings, special-effect coatings for interior decor and solvent-free epoxy products.
More Stories