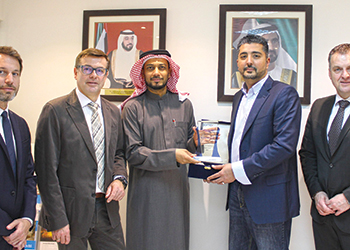 Bama vinyl tiles launched
April 2017
Bamardouf offers endless design options with its new luxury vinyl tile and an acrylic-based cement board joint compound for fibre cement board applications.
Bamardouf Decoration Company is launching a new luxury vinyl tile (LVT) in Saudi Arabia that offers virtually endless design options and an easy installation method.
To be launched under the Bama brand, the new product is being unveiled in the kingdom in partnership with Berry Alloc of the Beaulieu International Group, one the largest flooring manufacturers in Europe and a worldwide leader in its field, says Adnan Bin Mahfouz, CEO of the Saudi-based Bamardouf.
"This product is exclusively for Bama and is produced in Belgium," he adds.
The LVT is part of its Bama vision to introduce the latest decorative products into the Saudi market in line with the company's goal to reinforce the brand image as a complete system for ceilings, walls, floors, and accessories. The heterogeneous LVT's unique feature is its easy installation in any direction on the floor, says Mohammed Fahad Al Amoudi, national business development manager at Bamardouf.
He says this will give interior designers greater flexibility. Additionally, the LVT's click system does not require any type of adhesives, thus simplifying and enhancing installation speed.
Al Amoudi adds the surface of the LVT has been treated to absorb noise, while incorporating slip-resistant properties. In addition, it is waterproof and easy to clean and maintain.
"For now six colours will be introduced, however, because of its click system feature, multiple designs can be made during the installation stage," he says.
The tile can be applied to residential and commercial areas, such as living rooms, bedrooms, entrances, hotels, shops, classrooms, among other applications.
Beside the LVT, another major product Bama is set to introduce is a cement board joint compound. The acrylic-based cement board joint compound can be used in internal applications.
Bin Mahfouz says the current practice is to use gypsum board joint compound for fibre cement board applications although it can only be used for gypsum board applications.
"This is a wrong practice because at a later stage, it will affect the quality of finishing. Instead, fibre cement board joint compound should be used for such applications," he says.
"At Bama, we like to share knowledge with our partners, consultants, engineers, and contractors in using the right product for the right application," he adds.
Bamardouf classifies its major products into four segments, namely ceilings, walls, floors, and accessories, and is building the Bama brand as a complete system.
Other Bama products include wallpaper adhesive, as well as LED lights, access panels, aluminium ceiling strips made in Bamardouf's own factories and 3D wall leather panels.
Bamardouf owns the Metal Suspended Ceiling Factory (MSCF), which produces two main easily-installed products: aluminium strips and venetian blinds. Its factories are located in Al Khobar and Riyadh, while a third such facility is set to open in Jeddah this year.
Work is in progress on the new factory, which is expected to be opened in Q3 2017 with a production capacity equal to those of its existing factories in the kingdom.
The company is also poised to open new showrooms in Riyadh and Qassim. In addition, Bamardouf has a number of local agencies in different regions of the country, and there are plans to expand the network to all areas of the kingdom.
Bamardouf has partnered with major manufacturers including Knauf Insulation, Knauf dry wall system, Maica, USG Boral and Everest in addition to Berry Alloc to offer a comprehensive line of products.
Bamardouf has a host of projects to its credit including landmark projects such as Kingdom Hospital, Princess Nora University and King Khalid Airport Terminal Five in Riyadh; General Electric building and Tamimi Supermarket in Dhahran; and Red Sea Mall, Toshiba office, and Ikea in Jeddah. It is currently working on the National Guard Housing Compound in Jeddah; a Royal Commission housing scheme in Jubail; a villas project in Jubail for Satorp; and the Prince Mohammad Bin Fahad University's student housing in Al Khobar.
More Stories