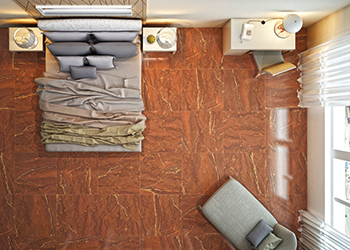 Striking surfaces
April 2017
RAK Ceramics says its heavy investment in research and development and the latest technologies has kept it at the cutting edge of ceramics production globally.
Its innovative approach has made it one of the largest players in the field, evolving from being a manufacturer of functional ceramics products to becoming a comprehensive provider of quality ceramic lifestyle solutions.
One of its foremost innovations is the imposing Maximus Mega Slab. An impressive 135 by 305 cm, it is the largest slab to be manufactured in the region. The striking super-sized slab can be used on walls, floors or to create surfaces. It also reduces the need for multiple joints and grout lines, giving surfaces a seamless look.
"We are also working on an exciting new project to develop a range of thermal ceramic solutions. These include warmth generating ceramic floor tiles for indoor use, cooling ceramic products for outdoor use which are resistant to heat from the sun and help to keep outdoor spaces comfortable, and a range of energy-saving ceramic façades," says a spokesman for the company.
RAK Ceramics is known for its wide product range and ability to produce bespoke ranges for both small and large-scale projects.
"We have become more design-focused and are developing more tools for interior designers and architects to use to bring their ideas to life. We want to empower our customers and offer them true customisation in every sense of the word. At RAK Ceramics, we want our products to inspire and enable designers to create without limitations. We want to give our customers room for imagination," the spokesman says.
He continues: "Flooring is an integral part of any architectural project, whether at home, office, shopping malls, airports or highway. This makes flooring an important design and architectural choice for residential, commercial and industrial buildings. Flooring should be beautiful and add a sense of personality to a space and it must also be practical so it can meet the demands of the customer."
Tiles are now a popular choice, says the spokesman, and are chosen over most flooring alternatives, due to their durability. The quality of tiles chosen and skilful laying are both very important factors in increasing the lifespan and keeping floors looking beautiful for longer, he adds.
Furthermore, ceramic tile floors are extremely easy to clean and their stain-resistant properties mean they stay clean and fresh looking for longer.
RAK Ceramics keeps abreast of the latest trends in flooring and surface design. According to the spokesman, the new trend is a mix-and-match fusion of the contemporary and the classic, whether that be a mix of colours, textures, designs or sizes.
"With mix and match, ceramics can be used in a fresh and modern way, bringing together traditional and modern materials to create an exciting new style of surface design. By mixing small sizes with super-sized slabs, or different shapes and shades of colour, the design possibilities are endless and it becomes possible to create truly bespoke spaces," he adds.
More Stories