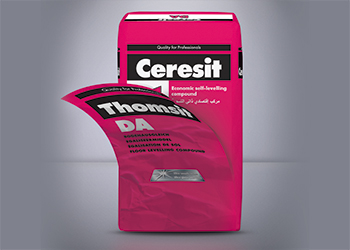 Henkel offers complete system
April 2017
Every year, millions of square feet of floor coverings are being laid to cover floors in various applications across the GCC. To fix these types of floor covering, special adhesives and repair materials are required.
Henkel says its Ceresit flooring technologies offer a complete flooring system comprising primer, substrate repair, levelling compound and bonding/fixing adhesive for various types of floor coverings like wood, PVC (polyvinyl chloride), rubber, linoleum and carpet.
The Ceresit brand – which is a strategic platform for Henkel's global building material business – now includes products from the Thomsit Flooring business, thus expanding Ceresit's footprint in the market.
The Ceresit range includes primers, self-levelling compounds and adhesives, the majority of which are certified as EC1, a code signifying their very low emission properties, says a company official.
Commenting on the products, Sujit Chandra, senior product manager, says: "In the Gulf region, different kinds of floor coverings are used and every type needs a special adhesive to fix it on different types of substrates. The Ceresit brand offers a wide range of adhesives for this purpose."
"Also, with Ceresit, the company is committed to provide floor-covering works that are safer, easier and healthier by optimising indoor air quality," he adds.
In the primers category, Henkel offers the Ceresit R755, R766 and R777.
Chandra says the primers are made from either synthetic resin dispersion or epoxy resin, and can be applied to different types of surfaces such as cement screed, concrete floors, stone floors, ceramic tiles and wooden floors.
Ceresit's primers offer a moisture barrier, higher coverage and are fast drying. They have higher bonding properties and also bind residual dust, he points out.
Henkel also provides self-levelling compounds such as Ceresit DA and Ceresit XXL Xpress. These products are made of cement binders and polymers and are offered as normal or fast-setting grades. They can be applied on cement screed, concrete floors, stone floors and ceramic tiles.
Ceresit self-levelling compounds have good self-levelling properties and are resistant to castors of furniture. The special-grade self-levelling compounds that have fast-setting properties are suitable for renovation work.
Meanwhile, Henkel's wide range of flooring adhesives includes the Ceresit UK 400, UK 800, K112, K 188E, K150, R710, P625 and Ceresit T425. Their composition is based on special dispersion, single- or two-component polyurethanes, neoprene, and conductive and rubber adhesive technology.
They can be used for fixing of PVC, polyolefin, rubber, wood, and carpet floor coverings.
Ceresit adhesives – formerly known as Thomsit – have been used on prestigious projects, such as Burj Khalifa and Ritz Carlton in Dubai, UAE.
While Thomsit products have been rebranded as Ceresit, there are no changes to the product formulation and quality, Chandra points out.
A pioneer in the field of adhesives, Henkel was founded over 140 years ago by Fritz Henkel. Now a world leading manufacturer of adhesives, Henkel is present worldwide via strong brands such as Ceresit, Pattex and Polybit, in the field of building construction. "Ceresit can look back on more than 110 years of tradition and has produced a steady stream of innovative products. Thanks to state-of-the-art technologies, the brand can offer today a wide range of high-quality products," Chandra concludes.
More Stories