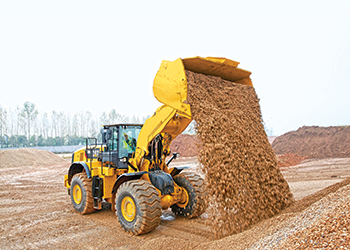 New Cat gets key upgrades
April 2017
Caterpillar's new 980L wheel loader beats its predecessor on many fronts including fuel efficiency, performance and operator safety and comfort.
Caterpillar has launched the new Cat 980L medium wheel loader, which is more powerful and fuel-efficient than its predecessor, featuring significant drive-train and hydraulic-system refinement, operator safety and convenience enhancements, among other features.
It applies proven technologies systematically and strategically to meet high expectations with regard to reliability, productivity, fuel efficiency, and long service life.
"The components used to build Cat wheel loaders are designed and manufactured to Caterpillar quality standards to ensure maximum performance even in extreme operating conditions," says a spokesman for Caterpillar.
The 980L uses a productive and fuel-efficient Cat C13 Acert engine with a maximum gross power rating of 303 kW and approximate operating weight of 30,090 kg, offering increased engine power by five per cent compared to the 980H. The power-dense engine uses a combination of proven electronic, fuel-injection and air-systems.
Other heavy-duty components, such as transmissions and axles, reduce the risk of premature wear resulting in increased uptime and reduced operating costs over the lifetime of the machine.
The 980L is not only more powerful, but also uses up to 25 per cent less fuel compared with its predecessor. It uses a 4F/4R power-shift transmission. A high-capacity torque converter uses a lock-up clutch for efficient grade and high-speed performance, and the Caterpillar Advanced Productivity Electronically Controlled (APEC) control system maintains torque flow during range shifts for faster acceleration on ramps and smoother shifts in the transmission's direct-drive mode.
The Integrated Braking System (IBS) regulates downshifting in proportion to the required braking force, resulting in smoother downshifts and increased deceleration control.
Axles for the 980L feature modifications that reduce parasitic loads and enhance positive lubrication.
The efficient load-sensing hydraulic system features proportional flow for fast, smooth hydraulic response with optimum controllability. The system is designed to deliver more engine power to the wheels at partial hydraulic flow, allowing faster cycle times in load-and-carry and ramp operations, as well as higher rimpull when digging, says the spokesman.
The new best-in-class operator environment features a four post roll over protection system (rops). A new, streamlined control panel includes easy-to-reach, highly utilised machine controls to increase operator efficiency.
The front and rear frames of the new 980L are fabricated with high-strength, robotically-welded materials to ensure long-term durability and reliable performance. Field-proven Z-bar front linkage produces optimum bucket and lift forces.
The one-piece tilting hood with side and rear access doors provides easy access to daily fluid level checks fuelling points and full engine compartment when required.
Cat Link technologies, such as the Product Link system, help fleet owners manage equipment utilisation and lower owning and operating costs through the online VisionLink interface, which tracks critical items, such as location, hours, fuel usage, diagnostic codes, and idle time.
More Stories