Loaders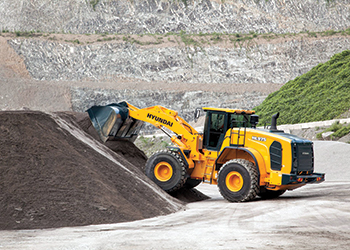 Hyundai rolls out high-tech model
April 2017
Hyundai has launched its new HL975 that is claimed to offer the very best in wheel loader technology.
The HL975 has been engineered to high standards after thorough feedback from operators worldwide, according to the manufacturer.
The new wheel loader has an operating weight of 26,500 kg and at the heart of the new machine is the latest Stage IV Cummins QSG12 engine with a maximum gross power of 250 kW at 2,100 rpm. "The true value of the HL975 machine is its power," says a spokesman for Hyundai. "With the high-strength design structure and enduring system proven by rigorous tests at various work sites, Hyundai's wheel loaders can perform any high-load work to maximise productivity,"
The loader has many environment-friendly features, such as automatic shutdown of engine, cutting fuel consumption and emissions; the ECO gauge that enables consistent economic operation; and 'travel speed limit control', where the operator can limit the maximum travelling speed within a range of 20 to 40 kmph to suit diverse working conditions which improves operational effectiveness.
The HL975 has a 10 per cent larger cabin with an ergonomic working environment that offers high comfort for the operator. The intelligent seven-inch touch wide-screen monitor is like a smart phone display and is larger than the previous models and is easy to read. There are joystick controls for boom, bucket and third hydraulic line as standard.
Hyundai's improved bucket design features an innovative wider opening, curved side plates and enhanced spill guard to maximise bucket capacity and minimise material loss when travelling.
More Stories