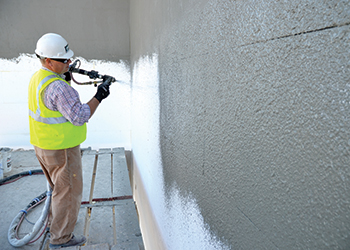 Portable pump eases access
April 2017
Graco's ToughTek F340e portable fireproofing pump, which has recently been launched in the EMEA (Europe, Middle East and Africa) region, offers a powerful, yet small and portable unit to apply fire-proofing materials for touch-up applications in cramped locations.
Stephan Rindfleisch, Graco's product marketing manager, says the ToughTek F340e portable fireproofing pump provides a quick, easy and convenient solution for touch-up jobs in difficult-to-access locations, and is small enough to be transported in the back of a pick-up truck.
This small, highly mobile unit runs on a single-phase 230 V power supply, is based on piston pump technology, and handles all kinds of fireproofing materials optimally – from low density to high density.
"Due to its size and mobility, the ToughTek F340e can get closer to the application point. Even when this is not possible, due to the piston pump technology the unit creates enough pressure to spray vertically up to an extended range," explains Rindfleisch.
Its maximum working pressure is an impressive 41 bar (600 psi) and maximum spray pressure is 34 bar (500 psi). The hopper has a 76-litre capacity with maximum output of 24 litres per minute. It takes a hose of up to 30 m, and can spray vertically up to a distance of 15 m, depending on the density of the material.
Rindfleisch says with the simple, intuitive operation of the ToughTek F340e, crews will be up and running in no time and can complete small touch-up jobs quickly. The unit is plug and play, so it's a matter of just plugging it into a standard 230 V wall outlet. The exact pumping speed is simply dialled in, and can be varied while on the job. An optional remote start/stop switch lets the nozzle man start or stop the pump.
Despite its small size, the ToughTek F340e is not limited in the materials it can spray. It can spray all kinds of low-, medium- and high-density fireproofing materials, including gypsum-based and cementitious spray-applied fire-resistive materials (SFRMs).
Designed and built to last, ToughTek's piston pump stands up to highly abrasive fireproofing materials. Its quick knockdown design makes maintenance fast and easy, saving operators the frequent expense of replacing pump parts.
Transporting the ToughTek F340e is effortless. With a weight of only 95 kg, it requires just a couple of people to lift it into the back of a van or pick-up truck, or a single person to roll it on its puncture-proof tyres to the job site, Rindfleisch says.
Its compact design and small footprint makes it easy to manoeuvre through doorways, halls and elevators – and even up and down steps, he points out.
"And you'll be surprised at the tight spaces it can fit into, allowing you to spray with ease," Rindfleisch adds.
The ToughTek F340e features a built-in protection system: Graco's ProGuard System continually monitors the operation of the unit. Dual LED indicators provide instant feedback while applying material. ProGuard automatically shuts the pump off to protect it from thermal overload or excessive pressure.
Graco also offers a bigger brother to the F340e, says Rindfleisch. The ToughTek F680e has a hopper capacity of 114 litres and a maximum output of 41 litres per minute. It can take a hose length of 90 m and can spray vertically up to 60 m. The unit is still portable, although obviously with its larger footprint it won't fit into such tight spots as the F340e, he says.
"The bottom line with ToughTek fireproofing pumps is increased productivity, for two reasons. Firstly, you can fireproof those 'inaccessible' parts of buildings that are such a problem for the larger, conventional pumps. Secondly, you'll spend more time spraying and less time moving your equipment around the site," he concludes.
More Stories