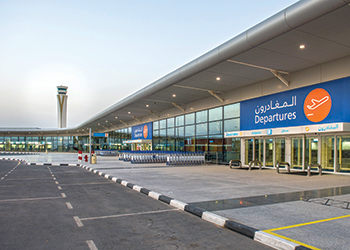 News in brief
April 2017
Cavotec wins Dubai airport deal
Global engineering group Cavotec has won a breakthrough order for its innovative pre-conditioned air (PCA) and 400 Hz power technologies for Dubai's new gateway airport, Al Maktoum International.
The Dh70-million ($19 million) order is one of the largest airport equipment project wins in Cavotec's history.
As per the deal, Cavotec and leading contractor A&P Group of Companies will supply, install, test and commission PCA and 400 Hz systems, including underground services, for more than 60 remote aircraft parking positions at Al Maktoum. According to Cavotec, deliveries are due to start in the second quarter of this year, with the first phase of commissioning planned for the third quarter.
The project consists of a large number of Multiple Aircraft Ramp System (Mars) stands, where the supplied equipment will service all types of aircraft, including the Airbus A380.
On the contract win, Juergen Strommer, the chief operating officer of Cavotec's Airports & Industry business unit, says: "Dubai Airports already use Cavotec's cutting-edge systems at Dubai International (DXB) Concourse D at Terminal 1, remote aprons at Terminal 2, and concourses B and C and the Expo remote apron at Terminal 3."
Yiannis Constantinou, the chief executive of A&P Group of Companies, says: "We are pleased to have entered into an agreement with our reliable partners Cavotec, to support us on yet another important, fast-track and challenging project, and rely on them to perform as on earlier occasions."
The remote apron project is the gateway for the Al Maktoum International Airport, which once completed is expected to handle some 160 million passengers a year, making it the world's largest airport.
Previously, Cavotec was awarded another turnkey deal to design, supply, install, test and commission Super Cool DX PCA units at Dubai International Airport's Concourse C.
Bilfinger's Oman JV wins big PDO contract extension
Germany-based Bilfinger said its Oman joint venture has won an extension of its multimillion-dollar framework contract to provide engineering and maintenance services to oil and gas company Petroleum Development Oman (PDO).
A European company specialised in civil and industrial construction, engineering and services, Bilfinger said the contract has been extended till 2021. In Oman, the company is represented by its subsidiary Tebodin & Partner.
Over the course of the remaining term of the joint venture, Bilfinger expects a turnover of around €200 million ($215 million), said a top official.
"We are pleased to be able to continue the longstanding partnership with PDO. The order confirms our new strategy: the Middle East is a growth market with potential for us," remarked its CEO Tom Blades.
"Bilfinger has an excellent reputation in the region and stands for the highest level of quality and safety. This is the basis for current and future success," he stated.
According to him, the framework agreement for engineering and maintenance services has been in place since 2011.
The extension of the contract was brought forward by a year due to the good co-operation, he noted.
PDO is the largest oil and gas production company in Oman responsible for over 70 per cent of oil production and almost all gas production in the country. It is majority state-owned, with Royal Dutch Shell the second largest shareholder.
Bilfinger is active in the Middle East with around 4,000 employees in the engineering and technologies (E&T) and maintenance, modifications and operations (MMO) business segments.
Saudi EPC company rebranded as Arkad
Saudi KAD, a leading engineering, procurement and construction (EPC) company in the kingdom, has announced its new corporate identity, and changed its brand name to Arkad with immediate effect.
The rebrand marks the company's strategic realignment ahead of its regional expansion programme across Saudi Arabia.
Arkad aims to be the first Saudi national EPC company, ensuring its values remain in line with the kingdom's 2030 vision. To reflect this, a new corporate identity and branding campaign has been applied at its head offices, project sites, production facilities, equipment, as well as other assets owned by the company.
The company is committed to providing the kingdom's infrastructure through the Saudi workforce, and ensuring they are equipped with the required skills.
More Stories