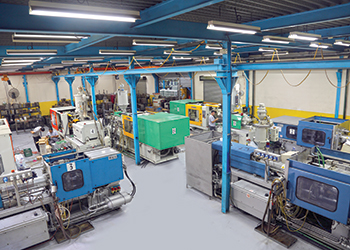 API opens Dubai office
April 2017
Advanced Plastic Industries (API), which manufactures polyolefin pipes and fittings for construction and infrastructure applications, has opened an office in Dubai, UAE, to better serve the region with its range of "exceptional pipe systems" that boast high performance, reliability and durability.
The Lebanon-based company will be soon increasing production capacity to meet the anticipated increase in demand in the region.
API was established in 1994 primarily as a manufacturer of plastic pipes and fittings solutions for the construction industry.
"Since its inception, the API family has strived to conform to the core values of constant innovation, superior quality, and client satisfaction," says Charbel Abou Chedid, the company's CEO. "This collective goal unites our organisation under one objective: creating an exceptional pipe system that is high in performance, reliable and durable, faster and easier to install, hygienic for drinking water, and considerate to the environment."
The company has been producing top-quality systems that meet international standards, namely the European standard (EN) and the German standard (DIN) for product specifications, quality control, employee welfare, and environmental protection. The company is ISO 9001 certified for quality assurance.
API produces PP-RCT (polypropylene random copolymer) pipes and fittings, HDPE (high-density polyethylene) pipes, and PP (polypropylene) pipes and fittings for drainage, says Ghady Moujaes, export manager for Saudi Arabia and Dubai.
Separating itself from commodity manufacturers, API offers a new generation grade of polypropylene for higher performance domestic and heating pipe systems, according to Moujaes.
API's factory in Lebanon covers 10,000 sq m and has a production capacity of 3,500 tonnes per year. It also has a high-rack warehouse over 6,000 sq m covering one-third of the factory site and holding the full range of its products.
After seeing the potential demand for its superior pipe systems in the UAE, the company established API International Marketing in Dubai to providing marketing and technical support to better cater to the UAE specifically and the GCC region as a whole. API will be introducing its portfolio and broad range of offerings, in collaboration with its agent DAS International by Al Jaber Group.
The company is currently supplying PP-RCT pipes and fittings to the Sobha Hartland Estates project in Dubai by real estate developer Sobha Group. Sobha Engineering and Contracting is the main contractor. Another project under way is Najmat Towers in Abu Dhabi, UAE, for Rashid Darwish Al Ketbi, where API is also suppling PP-RCT pipes and fitting. Gulf Precast Concrete Company is the main contractor.
PP-RCT pipes and fittings are also being supplied to another ongoing project, the Waterfront City in Beirut, Lebanon, for Majid Al Futtaim Properties and Société Joseph G Khoury et Fils.
Among its recently completed projects is the Adnoc headquarters in Abu Dhabi, where the "building designers selected API's PP-RCT pipe systems for the hot and cold water distribution system, with a firm belief that the system will operate without any maintenance for many years," according to Moujaes. The project was completed in 2016.
Other completed projects around the region are Al Hugayet Tower in Dammam, Saudi Arabia; King Hussein Cancer Center in Amman, Jordan; Al Bustan Hospital in Abu Dhabi; and Hilton Hotel in Doha, Qatar. All these were supplied with PP-RCT pipes and fittings.
Back in Lebanon, API has been involved in a photovoltaic (PV) hybrid system installation at its factory premises in Beirut. Abou Chedid says API is proud to be the first factory in the Middle East and fifth in the world to install such a system at its premises.
"The roof of the factory is covered with 1,250 sq m of PV solar panels producing 192 kW. The PV output is synchronised with the power generated from local diesel generators, resulting in a diesel saving of 70 tonnes per year, and an annual solar energy yield of 240 MWh."
API is now a greener industry by saving 170 tons of carbon dioxide (CO2), 4.6 tons of nitrogen dioxide (NO2) and 306 kg of sulphur dioxide (SO2) annually, says Abou Chedid.
This also speaks volumes about API's focus on environment-friendliness.
Commenting on business, Abou Chedid says 2016 proved to be difficult across all businesses and sectors, in comparison to previous years. Nevertheless, he says: "We understand this is a cycle, and anticipate positive results moving forward. We are ready for the calm after the storm."
About future prospects for API in the region, he says: "We believe the GCC region, and Dubai in particular with the build-up to the Expo 2020, offers sufficient scope for our high-quality products. This is especially the case in high-rise towers, where our products have proven their performance time and again, in many installations that have required high temperature and pressure applications. This is evident in projects such as the Le Méridien Towers Hotel in Makkah (Saudi Arabia) and Adnoc headquarters."
Furthermore, Abou Chedid says API is planning to increase production capacity in all divisions of production.
"We are happy to announce that this year we are doubling our production capacity for our ApiThene (polyethylene) and ApiDrain (polypropylene) brands."
He says the expansion project will allow an increase in production capacity by 40 per cent.
More Stories