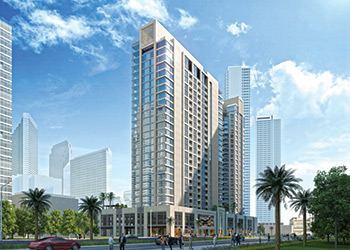 Seidco wins tower deal
June 2017
Seidco General Contracting has been awarded a Dh200-million ($54.4 million) deal by the UAE-based Dubai Properties (DP) for the development of its Bellevue Towers residential project in the Burj Khalifa District of Dubai, UAE.
The Bellevue Towers will offer 319 units including 159 one-bedroom, 105 two-bedroom, 42 three-bedroom, 10 penthouses and three loft apartments.
The 717,157-sq-ft development, located close to the waterfront of Marasi Business Bay and with panoramic views of the Burj Khalifa master community, has a bespoke sustainable design featuring a contemporary façade with balconies and terraces for all apartments.
The work on the two-tower development will be completed by the second quarter of 2019.
A good quality finish throughout the building, a landscaped podium terrace, and extensive amenities including a gym, pool and children's pool and playground, will ensure residents are offered an exceptional urban living experience.
Marwan Al Kindi, the executive director, sales and sales operations, at DP, says: "Choosing the right contractor for an iconic project such as Bellevue Towers is crucial and we are pleased to have appointed Seidco as our trusted partner to bring the destination to life."
A specialist in a diverse range of construction projects including residential high-rise buildings and housing complexes, Seidco sees the Bellevue project as an opportunity to contribute to the continued growth of the UAE's real estate market, remarks Omar Atef Ajjaoui, the chief operating officer.
More Stories