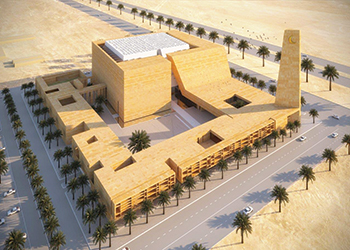 Hail mosque's design unveiled
July 2017
Italian firm Schiattarella Associati has been appointed to design the new Al Jabri Mosque complex in northwestern Saudi Arabia.
The mosque, which will have a capacity to host about 3,000 worshippers, will be built over on an area of 22,500 sq m on King Abdul-Aziz Road at Hail city.
The complex, which is expected to be a landmark for the community, will be designed to reflect the local identity and blend with the urban surroundings.
The entire building complex is naturally dominated by the main mosque and will be developed around a central plaza, which will be a meeting point. The plaza leads to the mosque featuring the prayer hall and the commercial area. Access to the square is enabled through covered passages and small airy and shaded courtyards, according to a spokesman for Schiattarella Associati.
"All around the plaza, the complex will have retail outlets, coffee shops and restaurants on the lower level, and offices, libraries, a Koranic school and sports facilities on the upper level," he said.
Schiattarella Associati's design, expressed in a contemporary language, will reflect Saudi Arabia's traditional Najd architecture, and will be based on the principle of a people-oriented city.
Despite its dimensions, the mosque appears to float on water as the entrance is through a canal and through a cleft in the stone façade, marking the symbolic passage from the outside to inside. The main hall of the mosque is bathed in natural light seeping through the roof structure, while after sunset, artificial light follows the same path in reverse order, so that the building becomes a landmark that is visible from afar.
"The result is a space where light dominates, underlining its sacredness and at the same time fostering meditation and prayer," the spokesman concluded.
More Stories